NBA Star Kevin Durant Says It's Strong to Be Kind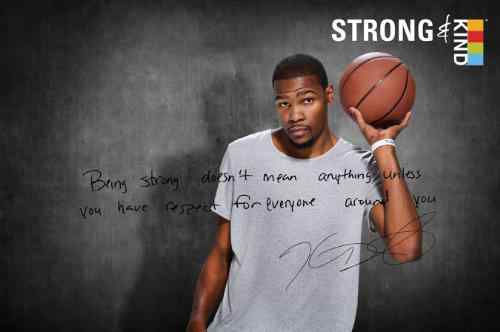 Kind Healthy Snacks (Kind) and NBA star Kevin Durant announced that they have partnered to launch a new cultural initiative that aims to challenge deep-rooted stereotypes and redefine cultural perceptions of strength and kindness.
Through the initiative, the healthy snacks company and global basketball icon are looking to define kindness for what it really is – the greatest show of human strength.
In conjunction with the program, Kind and Durant are looking for one million people to join them in taking the Strong & Kind pledge to support a $1 million donation from Kind to the Kevin Durant Charity Foundation, which will be used to create programming for at-risk youth to teach them that it's strong to be kind.
"As a pro athlete, I know it can be easy to focus on trash talk and negativity," said Durant, the NBA's leading scorer this season and five-time NBA All-Star. "Kindness can sometimes be mistaken for weakness, but I want to change that perception. The reality is that it takes a lot of strength to be kind."
"We don't tend to associate strength with kindness. Actually, the two are integrally connected," said Daniel Lubetzky, founder and CEO of Kind.
People can join the movement at www.strongandkind.com and participate in the conversation on social media through the hashtag #strongandkind.
The Kevin Durant Charity Foundation is a not-for-profit organization created by Kevin Durant to enrich the lives of at-risk youths from ages 6 to 18 through educational, athletic and social program support.