Pro Football Exhibit Comes to Super Bowl 50 Host City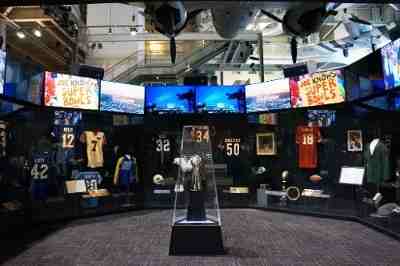 Set to embark on a number of Super Community events to celebrate Super Bowl 50, the City of Santa Clara has announced that the Triton Museum of Art will be home to "Gridiron Glory: The Best of the Pro Football Hall of Fame Exhibit" in the weeks leading up to The Big Game.
The exhibit is free to all visitors and will open to the public January 18, 2016 – February 14, 2016. This extensive and comprehensive touring exhibition is expected to draw families, fans and students.
The 5,000 sq. ft. exhibit will feature the best of the Pro Football Hall of Fame's vast collection, including over 200 precious football mementos, award-winning photography, rare photos, one-of-a-kind documents, interactive exhibits that challenge both mind and body, spectacular footage from NFL films, and the Vince Lombardi Trophy.
Exhibition Highlights include:
The Pioneers – Early days of the sport, when the NFL was born and when the rules of the game were created
The Great Moments – A tour de force artifact and video experience of the extraordinary acts of athletic ability of the players
The Great Players – Learn about legends like Johnny Unitas, Jim Brown, Joe Namath, Lynn Swann, Roger Staubach and Joe Montana
The Dynasties – Teams that have dominated an era
Pro Football's Road to Equality – Chronicles of the inspirational athletes that paved the way
The Science of Football – An interactive video presentation to examine the marriage between sport and science
Football as a Way of Life – How pro football has shaped the American life
Records are Made to be Broken – Artifacts from the Hall of Fame's collection will recount many milestone events
Champions – Artifacts and NFL Films presentations will bring to life the excitement of the road to the Super Bowl
Interactive Elements include:
Measure Up to the Pros: Compare your physical dimensions and athletic abilities to those of the biggest stars in the game
Try on vintage pads and jersey's and today's lightweight equipment
Step into an Instant Replay Booth to see if you can make the right call
Interactive touch screen selection kiosks presenting video clips on each member of the Pro Football Hall of Fame
Gridiron Glory is produced by Pro Football Hall of Fame in association with NFL Films, Pro Football Exhibits, Algonquin Museum Services, Barrie Projects, Gallagher & Associates and Evergreen Exhibitions.