Sachin Tendulkar Interacts with Swachh Bharat Champions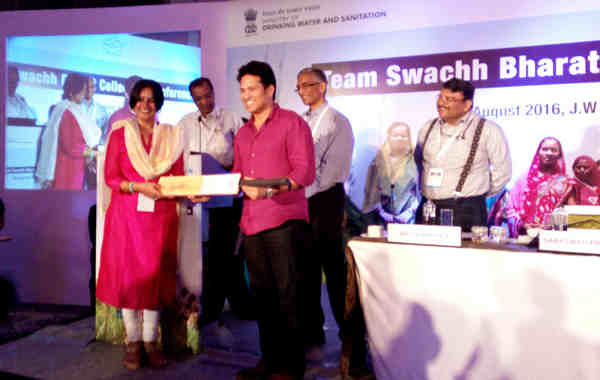 The Ministry of Drinking Water and Sanitation, in association with UNICEF, organized an interactive session between Swachh Bharat Champions Collectors across 22 States and Swachh Bharat ambassador, Sachin Tendulkar who was a leading Indian cricketer.
The interaction was aimed at celebrating and honoring the efforts and determination of Collectors who have done exemplary work in the field of rural sanitation, and led their districts to achieve an Open Defecation Free status.
[ Entries Invited for Swachh Bharat Short Films Competition ]
Mr. Tendulkar was welcomed on the occasion by the Secretary, Ministry of Drinking Water and Sanitation, Parameswaran Iyer, who thanked him for his active role as a Swachh Bharat ambassador in supporting the Mission.
The session began with a presentation by several Champions about the work happening in their respective districts. The Champions spoke about empowering women and children through sanitation, and the role of all sections of society in truly making Swachh Bharat a people's movement.
[ Request for Help to Open Free School for Poor Children ]
This was followed by an address by Mr. Tendulkar and a round of Q&A between Mr. Tendulkar and the Champions.
Mr. Tendulkar expressed his support for the Swachh Bharat team and congratulated the Champions on their achievements and determination for making India Swachh and Open Defecation Free.
Photo courtesy: Press Information Bureau