Sex with More Than One Person in 24 Hours!
This month, AdamAndEve.com, America's leading source for adult products, is back with its "Great American Survey," and one of the most risque topics yet.
Over 1,000 American adults were asked if they've had sex with more than one person in 24 hours, and one-third admitted they had!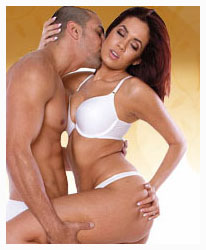 Thirty-three percent of the respondents said they had multiple partners within a 24-hour period. Of these, 81% were men. Just over 66% of the respondents said they had never had sex with more than one person in a 24-hour window.
[
Also Read
:
Kamasutra Exotic Vodka for Lasting Pleasure
]
While the number for multiple partners within a day may appear high, Dr. Kat Van Kirk, resident sexpert for AdamAndEve.com, finds these results on par with previous statistics regarding cheating and one-night stands.
"Our studies put the numbers for cheating at around 28%," said Dr. Kat. "Based on that figure, and possible multiple partner situations, I'd say that 33% is accurate."
"We encourage safety in any sexual scenario," says AdamAndEve.com director of Marketing Chad Davis. "However, in situations involving multiple partners or high risk behavior, safety is mandatory."
[
Also Read
:
Why You Must Talk More About Sex
]
The web-based survey, conducted by an independent third party survey company, of over 1,000 American adults age 18 and up, was sponsored by Adam & Eve to study sexual preferences and practices.
The survey results were announced today, Dec. 11.
Photo courtesy: Adam & Eve