Starbucks Offers New Fizzio Soda and Teavana Iced Tea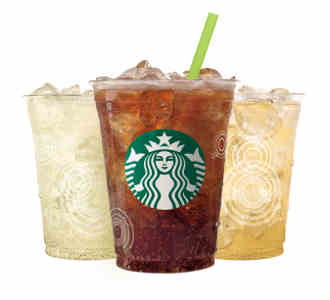 Starbucks (NASDAQ: SBUX) tomorrow will unveil a selection of new refreshing beverages, expanding its cold beverage portfolio with the addition of Fizzio Handcrafted Sodas and Teavana Shaken Iced Teas.
Fizzio Handcrafted Sodas are carbonated fresh and debut in three classic flavors with a Starbucks twist – Spiced Root Beer, Golden Ginger Ale and Lemon Ale.
Each Fizzio soda contains no artificial flavors, no preservatives or high fructose corn syrup and has 100 calories or less in a Grande (16 fl. oz.). The new Fizzio sodas will be available at select Starbucks locations in the U.S.
[ Also Read: Starbucks and Oprah Winfrey to Offer Teavana Oprah Chai Tea ]
Customers can also experience a fresh take on iced tea from Teavana at Starbucks with new and returning favorites this summer.
The new Teavana Blackberry Mojito Tea Lemonade and returning favorite Teavana Peach Green Tea Lemonade will be available in the U.S. and Canada beginning June 24.