Svedka Vodka Launches New Marketing Campaign
Svedka Vodka, an imported vodka brand in the United States, is set to launch its new national integrated marketing campaign, with outdoor, digital, social, print, and experiential activations, kicking off in May.
The new Svedka Vodka advertising campaign features imagery that is creative expression of the "possibilities that may unfold" with Svedka. Vibrant colors and enticing liquid cues surround the Svedka bottle in these product-focused executions.
"This campaign showcases the dynamic energy and imagery that connects the consumer more closely with the product, creating a tangible sense of immediate future," says Diana Pawlik, VP, Marketing, Svedka Vodka. "It's all about the possibilities of the 'now'."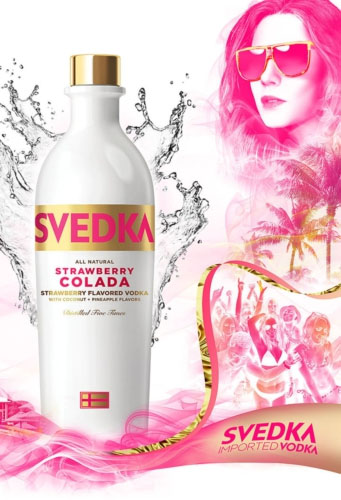 The creative rotation supports new flavors, core flavors, as well as 80-proof and will start with Svedka Vodka, Svedka Orange Cream Pop and Svedka Strawberry Colada in the spring, followed by a range of new executions in the fall.
Digital and out of home executions begin in May, with experiential sampling events across the country in 20 markets throughout the summer.