Terror behind the Walls at Haunted House
Eastern State Penitentiary announces a major expansion to Terror Behind the Walls for 2012, the all-new Detritus.
This new attraction, expanding the event into areas of the penitentiary never entered by the public, takes visitors through an original 1800s cellblock, past the historic prison greenhouse, and into an outdoor labyrinth of overgrown plants and twisting vines.
Also new for 2012, Terror Behind the Walls is adding to its VIP Experiences with an ALONE package.  The ultimate Halloween experience, ALONE includes a reserved parking space and an expert tour guide who will be a personal host for the evening.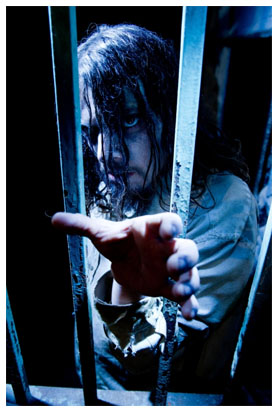 After a "Behind the Scenes" tour of the penitentiary, the visitor will experience all six haunted attractions of Terror Behind the Walls completely ALONE, see the Costume and Makeup departments and enjoy a 3-course dinner at Jack's Firehouse. This exclusive experience is only offered once per evening.
[
Also Read
:
After Dark Tour to Terror behind the Walls
]
Located inside the massive castle-like walls of Eastern State Penitentiary, a real abandoned prison at 22nd Street and Fairmount Avenue in Philadelphia, PA, Terror Behind the Walls is consistently ranked among the top 10 haunted attractions in the country.  In 2012, Terror Behind the Walls runs on select evenings from September 21 through November 10.
Eastern State Penitentiary was once the most famous and expensive prison in the world, but stands today in ruin, a lost world of crumbling cellblocks and empty guard towers. This gothic structure, with soaring 30-foot high fortress walls, is intimidating enough during the day. At night, the cellblocks fall into darkness, and the building becomes truly terrifying.
[
Also Read
:
The Mob Museum Opens in Las Vegas
]
Terror Behind the Walls has grown from a single-night event in 1991 to a 29-night event. Nearly half of the visitors who attended the event in 2011 traveled to Philadelphia for the event, coming from as far as Hawaii, Greece, Korea, and even Australia, making Terror Behind the Walls a national and international destination for thrill-seekers and Halloween lovers.
An extraordinary theatrical production, Terror Behind the Walls features Hollywood-quality sets, custom-designed props, animatronics, and digital sound effects, all taking place within the walls of the prison.
It takes an elite team of 14 makeup artists almost three hours to prepare the cast of more than 200 performers each evening. The event consists of six haunted attractions that create a seamless experience for visitors.