VisitBritain Launches The Countryside Collection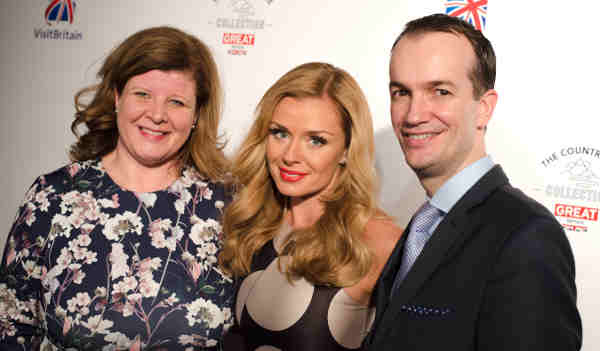 VisitBritain, the national tourist board for England, Scotland and Wales, unveiled Thursday a new GREAT Britain campaign initiative, The Countryside Collection, with a celebration in New York City.
The night included a performance by Katherine Jenkins, OBE, a classical crossover artist and Dancing with the Stars finalist. Alexandra Richards, DJ, model and daughter of British rock legend, Keith Richards, served as the night's DJ.
The Countryside Collection aims to grow the visitor economy and increase tourism in the rural areas of the country.
The launch was an evening of storytelling and memory-making as guests were welcomed into a large SoHo studio and transported to a 'GREAT room' of a contemporary British country house hotel.
[ Let Hawaii Happen – #LetHawaiiHappen ]
Once inside, guests were taken on a journey through the senses, bringing the surprising nature of the British countryside to life.
A toast led by VisitBritain kicked off the evening and personal countryside memories were shared with the night's guests, including foreign correspondent, TV host and world traveler Mikey Kay and Katherine Jenkins, OBE.
Guests were surrounded by a mix of modern and traditional British textiles, delicious British winter comfort foods interpreted in a contemporary way with photography and art – all showcasing the heart of the British countryside.
Travelers can follow their journeys and find more at the newly created campaign website.
In the picture above: GREAT Britain Campaign ambassador Katherine Jenkins, OBE, launches VisitBritain's new campaign The Countryside Collection with Her Majesty's Consul General Danny Lopez and VisitBritain Vice President, North America, Karen Clarkson in New York City.