White House Celebrates Maker Faire with #NationOfMakers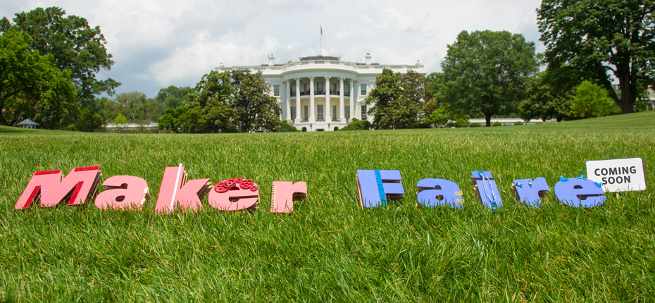 The first-ever White House Maker Faire is scheduled to take place on Wednesday, June 18.
In addition to the Maker Faire, June 18 will also be a nationwide Day of Making, where communities across America will share and celebrate their involvement in the Maker Movement.
The Maker Faire celebration is encouraging others to use the hashtag #NationOfMakers on Twitter to share their thoughts.
[ Also Read: Meet the Uneducated Education Minister of India ]
Here are a few options for you to participate.
Post photos of a current maker project you are working on or choose a new project to work on and ask a couple of friends or family members to build it with you.
Host an open house at your local makerspace or set up a hangout online to connect and share your inventions with Makers across the country.
Volunteer to be a mentor for someone who is interested in learning a new skill or find a mentor who would be interested in teaching a new skill you've been wanting to learn for a while.
Create a project of your own and then share the plans for your project online through Maker platforms so others can also make, modify, or remix your project.
Organize a maker roundtable to identify and convene maker thought leaders in your community on expanding Making initiatives, programs, and activities in your neighborhood.
If you're an organization or company, encourage your employees to volunteer as an educator and/or mentor to host maker-oriented workshops or classes in your community.
Follow the action online at www.whitehouse.gov/makerfaire
Earlier President Obama had said, "I want us all to think about new and creative ways to engage young people in science and engineering, whether it's science festivals, robotics competitions, fairs that encourage young people to create and build and invent — to be makers of things, not just consumers of things."
Photo courtesy: www.whitehouse.gov/maker-faire