150 Couples Renew Wedding Vows in Classic Cars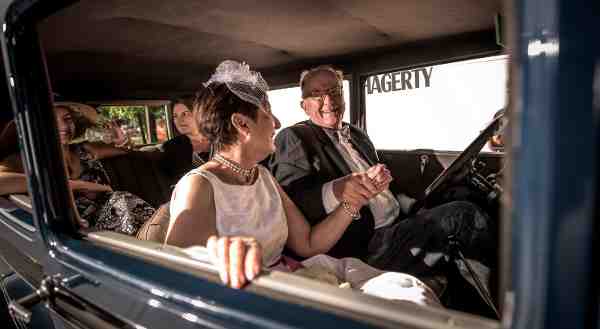 Hagerty, the world's leading insurance provider for classic cars, trucks and motorcycles, hosted a vow renewal ceremony for more than 150 classic car owners in the cars they love at the Woodward Dream Cruise over the weekend. The Dream Cruise brought together more than 40,000 classic cars and more than a million visitors to Detroit's Woodward Avenue.
"So many special life moments that create lasting memories are connected to cars," said McKeel Hagerty, CEO of Hagerty. "We wanted to find a way to rekindle those memories for couples who love their cars almost as much as they love each other."
Using the Woodward Dream Cruise as the perfect "car-centric" setting for the event, participating couples were provided veils, bowties, cupcakes, sparkling apple cider and a certificate to mark the occasion.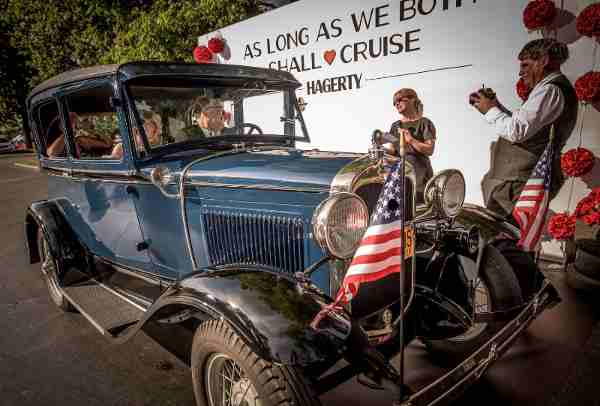 More than 150 couples participated in the vow renewals including Gordon and Geri Rinschler of Birmingham, MI who were married 47 years ago in the very same 1930 Ford Model A that they drove to renew their vows in Saturday.
Dressed in full gown and tux and witnessed by their three children and 17-year old granddaughter, who attends the Dream Cruise together every year, the Rinschlers reaffirmed their love stating "this will certainly be a Dream Cruise to remember!"
The vow renewal event is one of many that Hagerty has hosted to recognize the important role that classic cars play in owners' lives.
Based in Traverse City, Michigan, Hagerty is a leading insurance provider for classic vehicles and host to a network of classic car owners.