Acura TLX Begins Production in Marysville, Ohio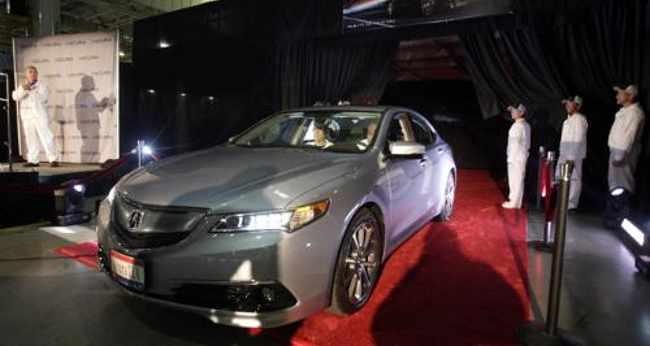 Acura marked the start of mass-production of all-new 2015 Acura TLX on Monday at the Marysville Auto Plant with Acura's new luxury sedan slated to land at dealerships nationwide in August.
With the launch of the new TLX, more than 90 percent of Acura vehicles sold in America are now produced in America.
Designed, developed and engineered by R&D teams in Ohio and Los Angeles, and manufactured exclusively in Ohio, the all-new 2015 TLX delivers on its advertising tagline of "It's that kind of thrill" combining sports-sedan athleticism with premium luxury-sedan refinement.
The TLX features two advanced new powertrains and two next-generation Acura precision-handling technologies – Precision All-Wheel Steer (P-AWS) and Super Handling All-Wheel Drive (SH-AWD) – all delivered in a new exterior package.
"The start of mass production of the TLX marks a new era for our Acura sedan lineup," said Mike Accavitti, senior vice president and general manager of Acura. "The TLX is built in a world-class facility with a world class workforce and we can't wait to get this thrilling sedan into the hands of our customers in just a few short weeks."
Located northwest of Columbus, Ohio, the Marysville Auto Plant implemented sophisticated new manufacturing technologies to assure superior build quality and luxury refinement.
Innovations to the manufacturing process included a new roll hemming technology that allows for more sophisticated vehicle styling, and the application of new sound-deadening materials that contribute to the ultra-quiet cabin of the TLX.