Armed Group to Release Children in Colombia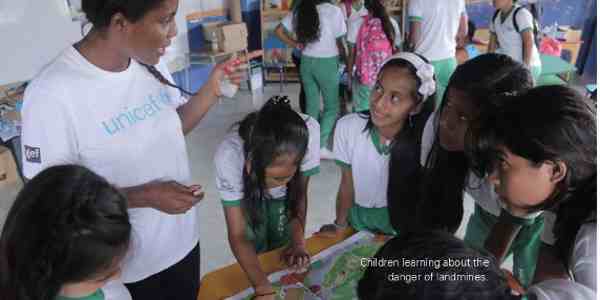 UNICEF welcomes the agreement by the Government of Colombia and the Fuerzas Armadas Revolucionarias de Colombia – Ejército del Pueblo (FARC-EP), Colombia's main armed opposition group, for the release of all children under the age of 15 from FARC's ranks.
The agreement, reached in the Cuban capital Sunday night, also stipulates that both parties will prepare a roadmap for the release of all other children under 18 and a comprehensive program for their reintegration.
"This is a historic moment for the children of Colombia," said Roberto de Bernardi, UNICEF Representative in Colombia. "UNICEF stands ready to support the release of all children and their reintegration into their families and communities, in accordance with national and international law."
[ UNICEF Launches New Portal to Protect Children Online ]
Peace talks between the Government and FARC to end over five decades of conflict started more than three years ago, leading to significant improvements on the ground: Between 2013 and 2015, the number of children killed or injured by landmines and unexploded ordnance halved while the number of displaced children dropped by 40 per cent, according to a recent UNICEF report.
However, the report, Childhood in the Time of War: Will the children of Colombia know peace at last?, also notes that an estimated 1,000 children were used or recruited by non-state armed groups during that period, and over 230,000 children were displaced.
"As the country moves closer toward peace, it is critical that all children who have paid the price of this conflict, either directly or indirectly, receive the protection, support and assistance they need," de Bernardi said.
UNICEF works with partners in Colombia to help children develop life skills that protect them from violence, educate communities about landmines, promote peace and civic education, and support children's access to justice, truth and reparation.
Photo courtesy: UNICEF