Art Exhibits at National Air and Space Museum
On July 26, the National Air and Space Museum in Washington, D.C., will open "High Art: A Decade of Collecting," "Searching for Goldilocks" and "Suited for Space."
High Art: A Decade of Collecting showcases 50 pieces of art acquired by the museum during the past 10 years. These pieces bring the static collection of airplanes and spacecraft in the museum to vibrant new life.
The exhibition includes three sections: "Visions of Flight" (conceptual works), "Faces of Flight" (portraits) and "Looking Back" (works related to historical events).
[
Also Read
:
Absolut Invites Fans to Interactive Art Exhibit
]
Searching for Goldilocks is a sculpture by Angela Palmer that is made up of 18 sheets of engraved glass representing the first 46 worlds identified by NASA's Kepler Observatory as Goldilocks planets.
Goldilocks planets are those that are similar to Earth in that they can support life—not too hot, not too cold, just right.
[
Also Read
:
Do You Want to See Earth from Distant Space?
]
Suited for Space, produced by the Smithsonian Institution Traveling Exhibition (SITES) in conjunction with the museum, explores the evolution of spacesuit development from the first quarter of the 20th century until the dawn of the shuttle era.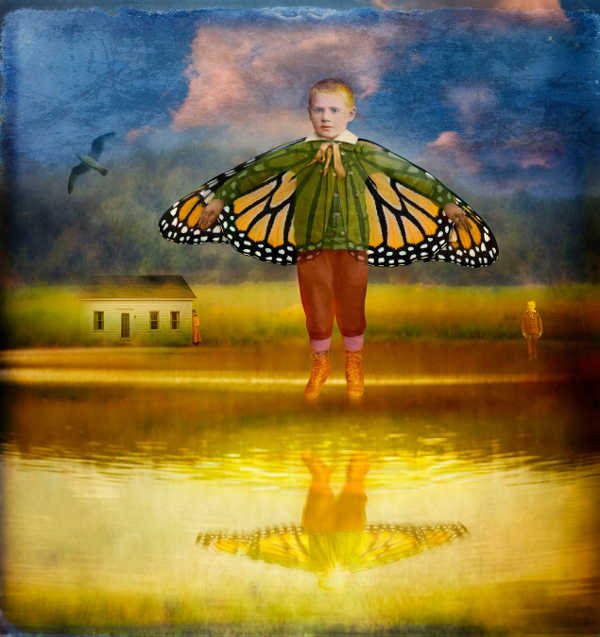 The display consists of photographs and X-ray images of these "one-person space ships" taken by Smithsonian photographer Mark Avino.
The three exhibitions will be open to the public at the museum through Dec. 1.
In the picture above: Flying Boy Over Truro's Pond, by Fran Forman, will be one of the artworks on display in the "High Art" exhibit at the National Air and Space Museum from July 26, 2013 – December 1, 2013.