Bernie Sanders Says Poverty Increasing Among Seniors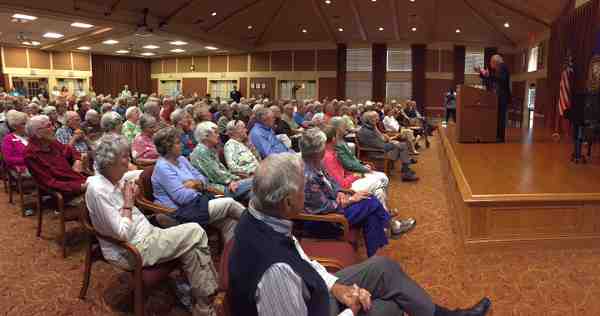 U.S. Sen. Bernie Sanders on Sunday visited the Riverwoods Retirement Community and highlighted rising prices for prescription drugs and increased poverty among seniors.
"I can tell you that many seniors are struggling," Sanders told a meeting room filled with about 250 seniors. He cited a Census Bureau report which said 10 percent of seniors in the United States are living in poverty. That's up from 8.7 percent in 2011.
Rapidly-rising prescription drug prices are among the factors driving up poverty among seniors, Sanders said.
"Today, Americans pay, by far, the highest prices for prescription drugs anywhere in the world," he said.
[ #End45 Campaign to End Poverty in America ]
Spending on medicine in the United States has gone up by more than 90 percent since 2002. Last year alone, nearly 1 in 5 Americans could not afford to fill a prescription their doctor prescribed. The senator has introduced legislation to rein in skyrocketing prices.
Sanders recently introduced legislation which would bring down drug costs by authorizing Medicare to use its purchasing power to negotiate with the pharmaceutical companies to lower the prices of prescription drugs.
[ Big Leads for Trump and Clinton over 2016 Primary Rivals ]
Not only would this substantially reduce the prices seniors pay for drugs, it could save Medicare more than $500 billion over the next decade.
Sanders' bill also would allow individuals, pharmacists and wholesalers to import prescription drugs from licensed pharmacies in Canada, where drug prices are 40 percent lower per person than in the U.S.