Feeding America Helps Solve Senior Hunger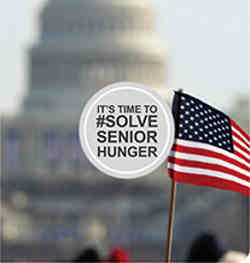 Feeding America, a hunger-relief organization in the United States, issued a call Wednesday to ask everyone to join in the fight to solve senior hunger.
The Feeding America nationwide network of 200 food banks provides food and grocery products to 7 million seniors annually, through various programs designed to ensure all seniors have access to nutritional meals.
Last year, the Feeding America network provided 563 million meals to seniors age 60 and above through special programs including the Senior Grocery Program, Mobile Pantry Program, Senior Cafes, multi-generational meal and food programs and partner programs that focus on feeding seniors who are homebound.
[ Why Insecurity Persists in India's Food Security Act ]
"We know that while hunger affects people of all ages, seniors are particularly vulnerable," said Matt Knott, president of Feeding America. "Older Americans have unique nutritional needs related to aging and medical conditions. With limited incomes many seniors are struggling to make ends meet."
According to Feeding America's recent study, Hunger in America 2014, more than half of all seniors report having to make tradeoffs, sometimes having to choose between purchasing food or paying for healthcare or prescriptions, paying for food or transportation, and paying for food or utilities.
[ HungerU to Fight Against World Hunger ]
Although Feeding America is working to ensure vulnerable seniors do not have to make these difficult choices, charity alone cannot solve senior hunger.
Feeding America urges everyone to get involved in Older Americans Month in three key ways:
Take a photograph holding a handwritten #SolveSeniorHunger sign and post to social media with the hashtag to elevate the issue.
Organize a senior food drive to provide food and grocery items unique to senior needs.
Tell your Member of Congress to support a strong Older Americans Act to provide health and nutrition services to seniors in need.
You can visit the website to learn more about the issue and find resources to get started solving senior hunger.
Photo / Video courtesy: Feeding America