Crime Congress Focuses on Crime Prevention Issues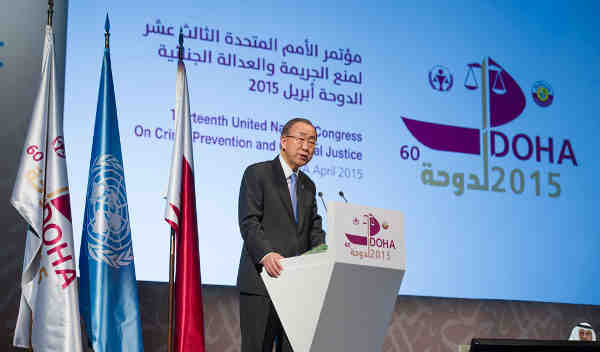 Inequality, poverty and weak rule of law are linked to violence and crime, according to the UN.
"There can be no sustainable development without human rights and the rule of law," said the UN Secretary-General Ban Ki-moon as the 13th Crime Congress kicked off in Doha, Qatar.
The event provides a platform for increased cooperation between governments, intergovernmental organizations and civil society on the entire spectrum of crime prevention and criminal justice issues.
The UN believes this is a critical year for development as countries hammer out a new, post-2015 development agenda.
At the 13th Crime Congress, taking place in the Qatari capital of Doha – from 12 to 19 April 2015 – policymakers and experts from around the world have joined forces with the UN, inter-governmental and non-governmental organizations to chart a new course for crime prevention and rule of law in support of sustainable development.
"The rule of law, better criminal justice systems, access to justice, well-functioning law enforcement and prosecution authorities… could be enablers for development," the executive director of the UN Office on Drugs and Crime (UNODC), Yury Fedotov, told the UN News Centre in an interview ahead of the Crime Congress, which is held every five years.