Dum Laga Ke Haisha Kicks Off Holi Festival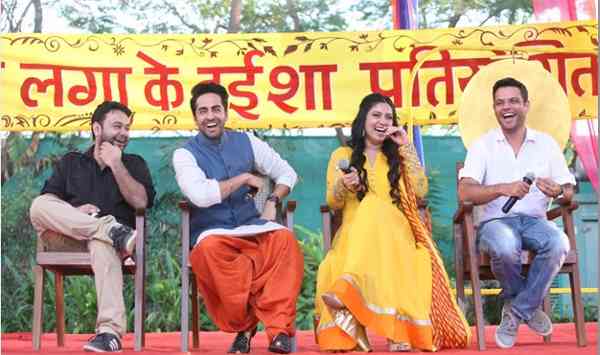 The team of Bollywood film Dum Laga Ke Haisha kicked off Holi, a festival of colors which is being celebrated in India today. The team came at the Yash Raj Films (YRF) Studios on Thursday for the celebration.

First time Producer Maneesh Sharma and Director Sharat Katariya, along with lead actor Ayushmann Khurrana, introduced the new YRF heroine, debutant Bhumi Pednekar.
[ Kumar Sanu Brings Dard Karaara to Dum Laga Ke Haisha ]
Now in theaters, the film revolves around the life of an odd small town couple – loser Prem and his oversized wife Sandhya.
Produced by Maneesh Sharma, Dum Laga Ke Haisha is directed by Sharat Katariya and stars Ayushmann Khurrana as Prem and YRF's new find Bhumi Pednekar.