Ebola: What Nurses Need to Know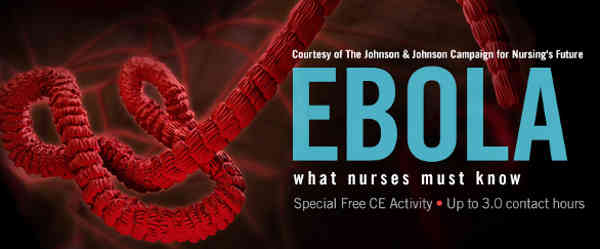 As the Ebola outbreak continues to cause concern, Nurse.com and the Johnson & Johnson Campaign for Nursing's Future have launched a new initiative to educate nurses across the U.S. about the disease.
An educational grant provided by Johnson & Johnson to Nurse.com — a leading provider of continuing education for nurses — provides a comprehensive digital learning experience for nurses about the clinical aspects, screening and special precautions surrounding Ebola.
The educational resources are available free of charge to every nurse in America and include a continuing education course, latest news about Ebola and other resources. Nurses can earn up to 3.0 continuing education contact hours for completing the entire activity.
---
Related Stories:
"Nurses are critical to winning the battle against Ebola," said Nurse.com president and CEO Melyni Serpa. "With their shared values of championing the nursing profession, Nurse.com and Johnson & Johnson are dedicated to supporting nurses in their mission to educate the public about the disease and care for patients."
This special learning opportunity is available at Nurse.com/Ebola. Nurses can choose to complete the entire digital continuing education experience, "Ebola: What Nurses Need to Know," worth 3.0 contact hours, or the single continuing education course "Ebola Virus Disease: Preparation and Prevention," worth 1.0 contact hour. The offer will be free to nurses beginning Nov. 6.