First Zero-Emissions Electric Buses for LA Metro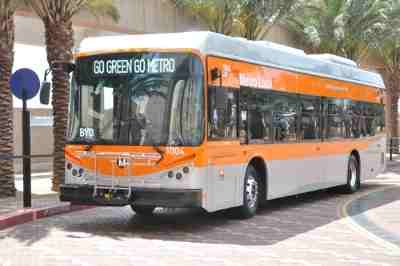 The Los Angeles Metropolitan Transportation Authority (LA Metro) has officially taken delivery of its first 5 battery electric transit buses from BYD.
LA Metro, known in the transit community as the nation's first clean-air fleet with its conversion to Compressed Natural Gas (CNG) transit buses, is now also the first major transit property in the US to begin electrifying its fleet with truly zero-emissions buses.
These 40-foot buses are built by local Southern California Electric Vehicle manufacturer BYD Motors, and will be directly integrated into daily operations, as the buses are capable of driving more than 155 miles on a single charge.
---
Related Stories:
[ How to Protect Your Child from Poisonous Pollution ]
[ How Pollution Makes Delhi a Poisonous Gas Chamber ]
[ Construction Causing Deadly Pollution in Delhi: NGT ]
[ Toxic Air in Delhi Rings Death Knell for Locals ]
[ How to Deal with Vehicular Pollution in Delhi ]
---
Los Angeles Metro will test the first 5 electric buses on various routes around the city to evaluate their optimal route profiles. There are still 20 more electric buses left on Metro's contract with BYD Motors, and if all goes well, the city hopes to see more electric buses on the streets soon.
BYD Motors Inc. is an American manufacturing company and a wholly owned subsidiary of BYD Company Ltd, the largest domestic auto-manufacturer and electric-bus manufacturer in China.