Getting Closer to a Solution: UN Libya Envoy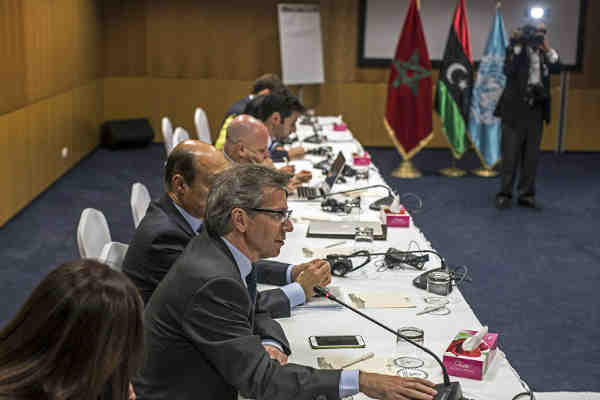 Previewing what he hopes will be the last round of United Nations-backed political talks on Libya, the UN envoy for the country said Thursday the fact that all the participants in the dialogue have accepted a fourth draft proposal as the basis for a final political solution is "extremely encouraging" that agreement could be reached during discussions over the coming days.
"We have just started this meeting, which the Libyans first of all, and everybody in the region…really [all of] us, expect to be the last round, the final round of talks," Bernardino León, the UN Special Representative for Libya told reporters in Skhirat, Morocco, where he is facilitating the talks based on the draft political proposal he presented to the parties two weeks ago.
---
Important Note
While terrorist attacks and human rights violations are happening at an alarming rate all across the world, the UN has failed miserably in finding peaceful solution to any of the conflicts. The UN Secretary-General and other top UN officials are doing nothing to stop terrorism and other crimes except issuing statements which are utterly useless and meaningless.
In the given situation, the UN member countries must challenge the role of this intergovernmental organization and stop financing it. All the funds given by the member states are being squandered by the UN which is now overstaffed with unskilled officials. Believe me, UN has lost its relevance.
---
He said the parties and the UN facilitation are "getting closer to a solution" he is encouraged by the fact that all the stakeholders had accepted the draft as a basis for a final solution. "So, we are really looking forward to our discussions in the coming days and the possibility to have an agreement which is accepted by everybody."
Responding to questions regarding changes to the text proposed by some parties, Mr. León asked for time to analyse the suggestions. "We are in a negotiation. This is a work trying to reach consensus, trying to integrate [all] points of view. But until we have a complete reading of the remarks presented by everybody we will not be in a position to assess what the possibilities for the text are."
Calling the current stage "preliminary work", he said that in the coming days "we will be in a much better position to assess exactly the possibilities to reach this consensus."