How Pallavi Got the Chance to Work with Sexual Wellbeing Brand Durex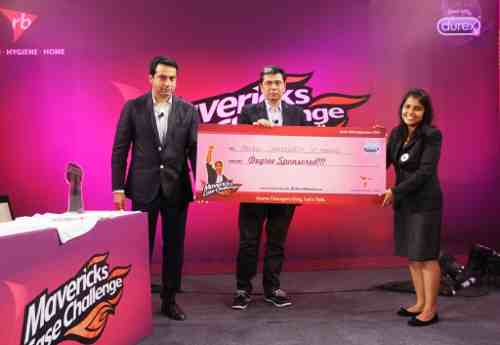 After 2 months of screening process, RB India and Durex announced Wednesday the winner of RB Mavericks 2014 – the 8th Annual Case Study Competition of RB.
Pallavi Chakravorty from IIT-Madras rose up to the grand challenge and outshined over 1,000 applicants to win the coveted title.
Pallavi Chakravorty won the grand prize of securing sponsorship for her MBA tuition fee worth Rs. 4.5 lakh and an opportunity to work with a leading brand in sexual wellbeing category – Durex. The other 5 finalists secured a PPI (Pre-Placement Interview) opportunity with RB India.
---
Related Stories:
How Condoms Reduce Stress and Increase Sexual Pleasure: Watch VIDEO
Slippery When Wet: What Makes Sex Amazing Instead of So-So
Sex Education: How to Get Proper Penile Erection
---
RB Mavericks is the Annual Case Study Competition of RB (formerly called Reckitt Benckiser), world's leading consumer Health and Hygiene Company.
Started in 2006, the national level competition aims to identify the game changers across B-Schools who can redefine the norms in marketing and have the ability to provide solutions with their creative thinking. This year the students were given a real life business challenge on Durex, the global brand in sexual wellbeing category.
The grand finale this year was judged by jury members including Nitish Kapoor (Managing Director, RB India), Kaizaad Kotwala (Professor of Theatre, Media Studies & Film, The Ohio State University), Santosh Desai (Managing Director, Future Brands) and Lakshmi Sethi (Executive Director, Quantum Consumer Solutions).
The RB Mavericks Case Challenge, 2014 was launched on 24th July 2014 after the invitation for the competition was extended to all Graduate and Business Schools across India. The process for submitting entries was completed online through a dedicated microsite.