Human Rights Situation in Ukraine Is Volatile: UN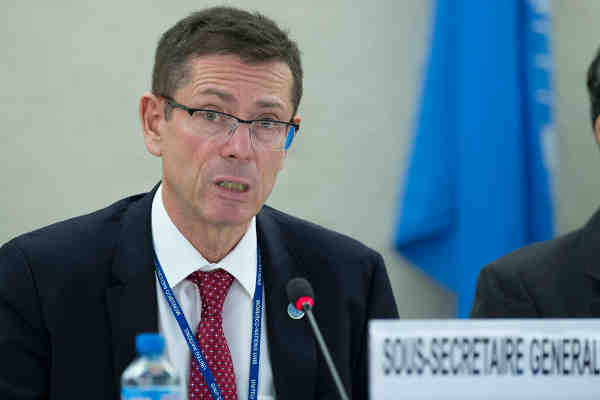 Unless urgent action is taken in Ukraine to separate sides and remove heavy weaponry, wide spread hostilities in the country could re-escalate, a senior United Nations human rights official has warned.
Addressing the Human Rights Council in Geneva, Ivan Šimonović, the assistant secretary-general for Human Rights, appealed to the leaders of the warring sides to respect a ceasefire agreement.
"I have heard them loud and clear: they want peace, human rights and the rule of law," he said.
According to UN, the conflict has claimed the lives of nearly 9,500 people since fighting erupted two years ago – more than one in four civilians – and left nearly 22,000 people injured.
[ What Is the Link Between Brexit and New World Order? ]
While the rate of casualties has slowed substantially since a ceasefire in September 2015 and the signing of the Minsk Peace Accords – an agreement signed under the auspices of the Organization for Security and Co-operation in Europe (OSCE) to halt fighting in the Donbass region of Ukraine – some 10 people are killed each month.
These dire figures are part of the latest report from the Office of the UN High Commissioner for Human Rights (OHCHR) covering the period between 16 February and 15 May 2016.
[ New Report: Hillary Clinton and the Benghazi Terrorist Attack ]
It notes that since 15 May, half of all civilian casualties were caused by shelling from mortars and howitzers – weapons which use in the conflict zone are prohibited by the Minsk Agreements.
Mr Šimonović said that clashes and exchange of fire happened "on a daily basis" near Donetsk and Horlivka – cities controlled by the armed groups – and in the towns of Avdiivka and Mariinka, which are under Government protection.
Those living on either side of the contact zone also face severe restrictions on their freedom of movement, the UN official said, in reference to the 20,000-30,000 people who cross the front line every day to get their pensions or see a doctor.