#LoveWins: Gay and Lesbian Couples Can Marry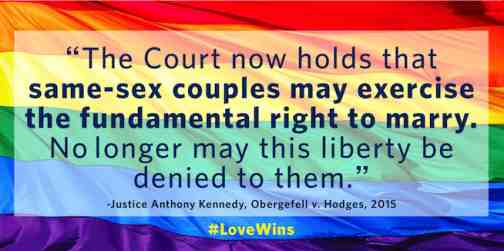 In a 5-4 decision in Obergefell v. Hodges, the Supreme Court of the United States took a huge step forward when it allowed gay and lesbian couples their right to marry. Today, love wins, said a White House statement.
Following the ruling, President Obama tweeted Friday, "Today is a big step in our march toward equality. Gay and lesbian couples now have the right to marry, just like anyone else. #LoveWins."
He also delivered a statement from the Rose Garden.
A Message from Jim Obergefell: "My Husband"
"John and I started our fight for a simple reason: We wanted the State of Ohio to recognize our lawful Maryland marriage on John's impending death certificate. We wanted respect and dignity for our 20-year relationship, and as he lay dying of ALS, John had the right to know his last official record as a person would be accurate. We wanted to live up to the promises we made to love, honor, and protect each other as a committed and lawfully married couple.
Couples across America may now wed and have their marriage recognized and respected no matter what state they call home. No other person will learn at the most painful moment of married life, the death of a spouse, that their lawful marriage will be disregarded by the state. No married couple who moves will suddenly become two single persons because their new state ignores their lawful marriage."
Photo / Video courtesy: White House