Music Star Blake Shelton to Roll Out New Pizzas for Pizza Hut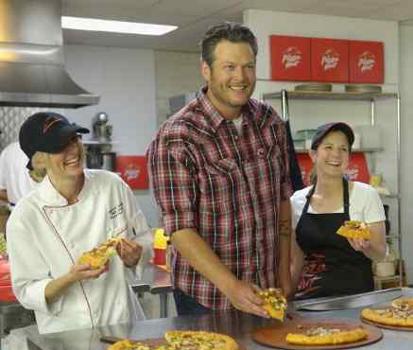 Pizza Hut announced today that the brand has partnered Grammy nominated artist Blake Shelton to launch a new line of BBQ Pizzas in three distinct flavors: Blake's Smokehouse BBQ, Hawaiian BBQ and Honey BBQ Chicken.
"Growing up in Ada, Oklahoma, Pizza Hut was a big deal in my community," said Shelton. "As a fan of BBQ and pizza, it has been a blast to partner with Pizza Hut to bring two of my favorite foods together."
Shelton played a key role in inspiring the new menu items from Pizza Hut. So much so, the Smokehouse BBQ recipe is named in his honor.
[ Also Read: Domino's Pizza Launches New Online Group Ordering Tool ]
Blake's Smokehouse BBQ and the other two BBQ recipes will be available beginning May 12 as a summer staple for $11 and consumers can enjoy a 2-liter Pepsi product for $1 more.
Also, from May 18-26, a medium BBQ recipe pizza is $5 with the purchase of any large pizza online.
"The authenticity that Blake brings as a performer, personality and backyard BBQ enthusiastic made him the ultimate fit for this launch and our brand," said Jared Drinkwater, senior director of Marketing, Pizza Hut.
The three BBQ pizza recipes from Pizza Hut feature a savory toasted cheddar edge on the brand's new Hand-Tossed crust and are topped with a Honey BBQ sauce.
Pizza Hut has multiple ordering channels, including apps for iPhone, Windows and Android, as well as Xbox 360, iPad and a mobile site.