Narendra Modi Releases Ambedkar Coins in India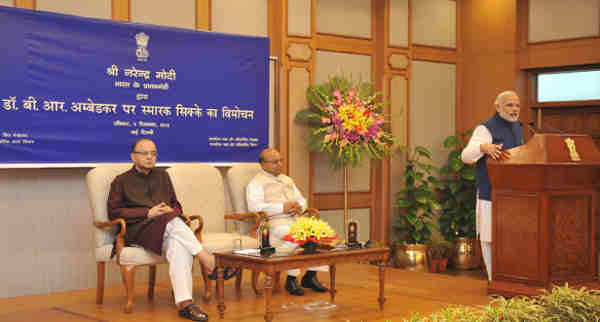 The Prime Minister of India, Narendra Modi, released Sunday two commemorative coins, as part of the 125th birth anniversary year celebrations of Dr. B.R. Ambedkar.
The coins, which are of "ten-rupee" and "one hundred and twenty-five rupee" denomination, were issued on the Mahaparinirvan Divas of Babasaheb Ambedkar.
Speaking on the occasion, the Prime Minister said that there were only a few individuals who remain alive in public consciousness, even 60 years after their death.
[ How India Abuses Children's Right to Education ]
He said the more we recall Dr. Ambedkar's thought, in the context of issues currently faced by India, the more we come to respect his vision and his approach to inclusiveness.
Modi said that while his contributions towards social justice have been recognized, his economic thought and vision is still not fully understood, and it needs to be appreciated.
He said Dr. Ambedkar and the Constitution of India should always be discussed and talked about in this country, and the observance of Constitution Day on November 26th, was a step in this direction.
[ No Democracy in India. It Is Parliamentary Dictatorship. ]
The Prime Minister appreciated Dr. Ambedkar's vision on subjects such as women empowerment, India's federal structure, finance, and education.
Union Ministers Arun Jaitley and Thawar Chand Gehlot were present on the occasion.
In the picture above: Narendra Modi addressing at the release of the commemorative coins on Dr. B.R. Ambedkar, in New Delhi on December 06, 2015. The Union Minister for Finance, Corporate Affairs and Information & Broadcasting, Arun Jaitley and the Union Minister for Social Justice and Empowerment, Thaawar Chand Gehlot are also seen.
Photo courtesy: Press Information Bureau