NATO in Warsaw: Steeling the Alliance?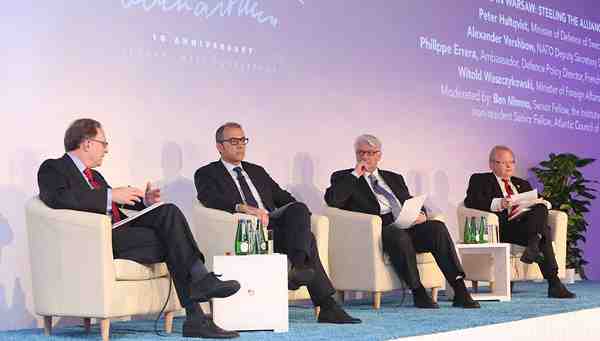 NATO Deputy Secretary General Alexander Vershbow addressed key issues on NATO's agenda for the Warsaw Summit at the annual Lennart Meri Conference in Tallinn on Saturday.
Ambassador Vershbow took part in a panel discussion entitled "NATO in Warsaw: Steeling the Alliance?," together with Swedish Defence Minister Peter Hultqvist, Polish Foreign Minister Witold Waszczykowski and Ambassador Philippe Errera, Defence Policy Director of the French Ministry of Defence.
As part of the Conference, the Deputy Secretary General visited Standing NATO Maritime Group One (SNMG1), boarding the Spanish frigate Alvaro de Bazan and the British frigate HMS Iron Duke.
[ NATO Warns Russia on Turkish Air Space Violation ]
Ambassador Vershbow stressed the importance of NATO's naval capabilities, including in the Baltic Sea region.
"Boosting NATO's capabilities demonstrates our resolve and helps to reassure all member nations – including Estonia of course – that NATO will protect their citizens and defend their countries against aggression," he said.
[ WikiLeaks Releases Searchable Draft of Secret TTIP Agreement ]
In Tallinn, Ambassador Vershbow also met with Estonian President Toomas Hendrik Ilves, Prime Minister Taavi Rõivas, Defence Minister Hannes Hanso and other senior officials.
The 2016 Warsaw Summit will take place in Warsaw, Poland on July 8 and 9. It will be a meeting of NATO heads of state and heads of government.
Photo courtesy: NATO