Over 100 Killed in Kerala Temple Fire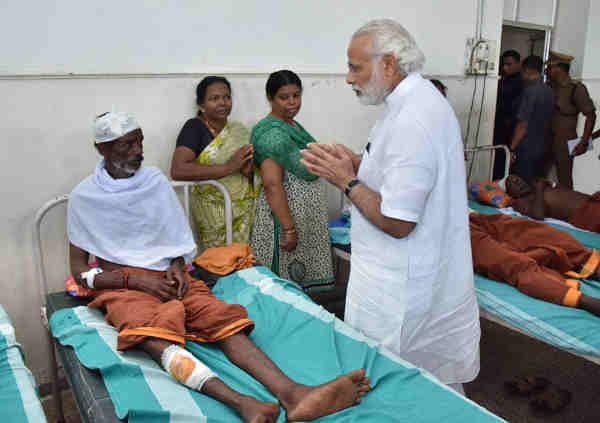 The Prime Minister of India, Narendra Modi, has announced an ex-gratia relief of Rs. 2 lakh each from Prime Minister's National Relief Fund (PMNRF) for the next of kin of those who lost their lives in the fire in Kollam. Modi also announced a solatium of Rs. 50, 000 to those who were injured in the fire.
More than 100 people were killed and nearly 300 injured when a fire broke out from a fireworks display in the Puttingal Devi Temple complex early Sunday. The injured persons were rushed to Trivandrum Medical College hospital.
[ Also Read: How India Abuses Children's Right to Education ]
Modi says he is constantly monitoring the situation and is in touch with officials. A team of doctors including burn specialists accompanied Modi to Kerala when he went there Sunday.
Meanwhile, Kerala Chief Minister Oomen Chandy has also announced ex-gratia relief of Rs. 10 lakh to kin of each of those killed and Rs 2 lakh for seriously injured.
Photo courtesy: Press Information Bureau