President Obama Meets U.S. Laureates of 2014 Kavli Prizes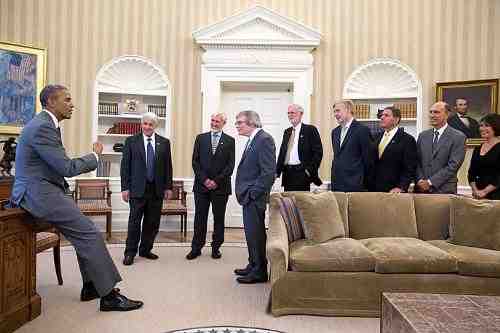 At the White House on Thursday, President Barack Obama welcomed the four American laureates of the 2014 Kavli Prizes – prizes awarded to scientists who have made seminal advances in the fields of astrophysics, nanoscience, and neuroscience.
Joined by White House Office of Science and Technology Policy Associate Director Jo Handelsman, the President congratulated Kavli Prize Laureates Alan H. Guth (Massachusetts Institute of Technology), Andrei D. Linde (Stanford University), John O'Keefe (University College London) and Marcus E. Raichle (Washington University in St. Louis School of Medicine).
[ Also Read: President Obama to Honor Radio Host Krista Tippett ]
Accompanying the laureates were Rockell N. Hankin, Chairman of The Kavli Foundation, Robert W. Conn, President and CEO of The Kavli Foundation, Miyoung Chun, Executive Vice President of Science Programs of The Kavli Foundation, and Kåre R. Aas, the Norwegian Ambassador to the United States.
The 2014 Kavli Prizes laureates were selected for pioneering the theory of cosmic inflation, for transformative contributions to the field of nano-optics and for the discovery of specialized brain networks for memory and cognition.
[ Also Read: Governor Sarah Palin Launches Online Video Channel ]
The Kavli Prize is a partnership between The Norwegian Academy of Science and Letters, The Kavli Foundation and The Norwegian Ministry of Education and Research.
The Prize was established to recognize outstanding scientific research, honor pioneering scientists, promote public understanding of scientists and their work, and foster international cooperation among scientists.
The Kavli Prize consists of a gold medal, scroll and a cash award of one million dollars in each field, with the prizes awarded biennially.
The 2014 Kavli Prize Laureates will receive their medals this fall during a ceremony held in Oslo, Norway.
In the picture above: President Barack Obama greets the 2014 Kavli Prize laureates in the Oval Office, July 31, 2014. (Official White House Photo by Pete Souza)