Red from 'Angry Birds' Helps You Stay Happy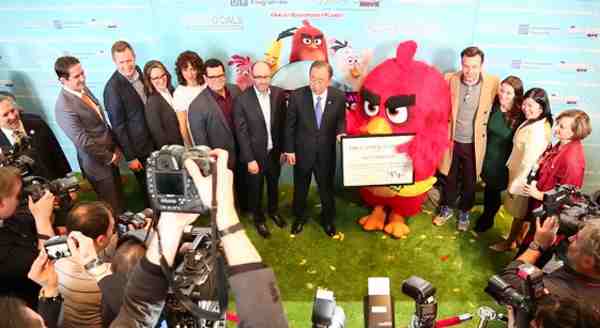 The United Nations has appointed Red, the leader of the "Angry Birds" mobile game characters, as an envoy to inspire climate action toward a sustainable and happier future for all.
Red's appointment, as Honorary Ambassador for Green, is part of a UN campaign launched last week in partnership with the globally renowned characters to make a direct link between tackling climate change and people's happiness and well-being on the occasion of the International Day of Happiness observed on Sunday, 20 March.
"The Angry Birds have entertained millions of people around the world – and now they are part of making the world a better place," said Secretary-General Ban Ki-moon at a launch event at UN Headquarters in New York.
[ Don't Worry, Be Happy. But How? ]
The campaign, in partnership with Sony Pictures Entertainment, the UN Development Programme (UNDP) and UN Foundation, asks the general public across the world to make the Angry Birds happy by taking actions on climate change and sharing their photos and commitments on social media platforms using the common hashtag #AngryBirdsHappyPlanet.
By recycling, taking public transportation and conserving water, for example, individuals can share tips on how they can live sustainably and happily in their everyday lives.
As part of his ambassadorial duties, Red will go on a "virtual world tour" starting on 21 March, highlighting various ways to take climate action.
The tour will take him to Paris, where countries adopted an historic agreement to address climate change in December, and will end in New York, where world leaders will sign the Paris Agreement at UN Headquarters on 22 April.