Regal Announces Midnight Shows of "Sharknado"
Regal Entertainment Group (NYSE: RGC), a leading motion picture exhibitor in the United States, has announced that it will host midnight shows of the Syfy Channel's film "Sharknado" on August 2 at approximately 200 cinemas across the country.
"'Sharknado' has become a force of nature in its own right. This project transcends the original television platform and has created tremendous buzz," stated Ken Thewes, chief marketing officer for Regal Entertainment Group.
"There's just something epic about watching these huge beasts on the big screen with your friends and family. The crowd reactions will make for a memorable experience in our theatres."
[
Also Visit
:
Robojit and the Sand Planet – Global Entertainment Project
]
Tickets for the midnight shows are available at the box office, online and through the Regal App.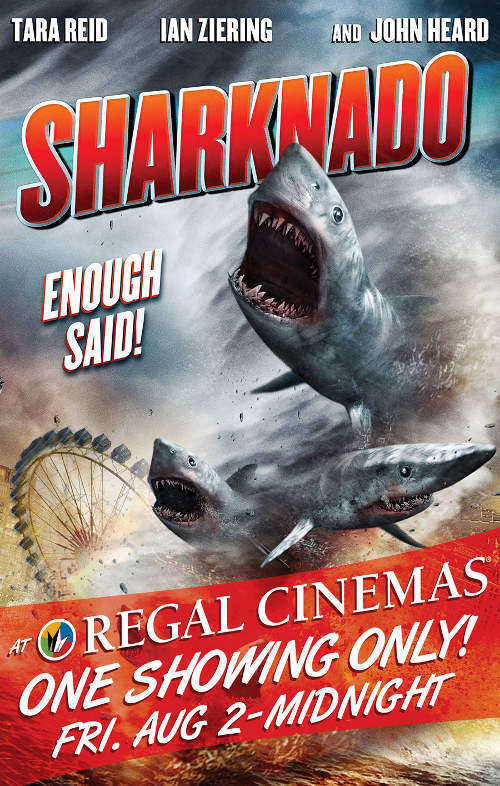 When a freak hurricane swamps the Los Angeles area, nature's deadliest killer rules sea, land, and air as thousands of sharks terrorize the waterlogged populace.
Surfer and bar-owner, Fin (Ziering), and his friends Baz (Jaason Simmons) and Nova (Cassie Scerbo), set off to rescue his estranged wife April (Tara Reid) and teenage daughter Claudia (Aubrey Peeples). The movie's official tagline of "Enough said!" speaks for itself in this disaster film.
A full list of participating theatres is available online: REGmovies.com/promotions/sharknado.