Shia Cleric Sentenced to Death in Saudi Arabia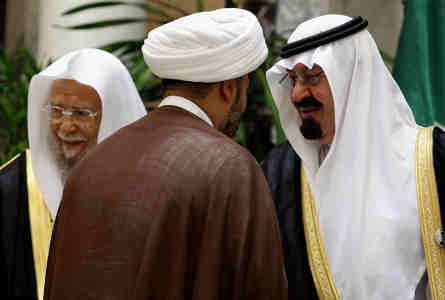 Saudi Arabia's Specialized Criminal Court sentenced a prominent Shia cleric to death on Wednesday, Oct. 15.
According to Human Rights Watch, Sheikh Nimr al-Nimr was convicted on a host of vague charges, based largely on his peaceful criticism of Saudi officials.
Al-Nimr has a wide following in Saudi Arabia's Eastern Province, where most of the country's Shia minority live.
The charges included "breaking allegiance with the ruler," "inciting sectarian strife," and supporting rioting and destruction of public property during 2011-2012 protests in Shia-majority towns and cities.
Al-Nimr was also charged with violently resisting arrest in July 2012. Human Right Watch says it was not able to determine if the conviction was based on these charges, which al-Nimr has disputed.
The proceedings of Saudi Arabia's Specialized Criminal Court, which conducted the trial in 13 sessions over a year and a half, raise serious fair trial concerns, Human Rights Watch said.
"Saudi Arabia's harsh treatment of a prominent Shia cleric is only adding to the existing sectarian discord and unrest," said Joe Stork, deputy Middle East director at Human Right Watch. "Saudi Arabia's path to stability in the Eastern Province lies in ending systematic discrimination against Shia citizens, not in death sentences."
Authorities arrested al-Nimr's brother and legal advocate, Mohamed al-Nimr, in the courtroom after he announced the verdict on Twitter.
Human Rights Watch said today it was not able to determine the reason for the arrest, but local activists said they believed it was to prevent him from speaking to the media about the trial.
The brother's tweet said that the court rejected prosecutors' request for a "crucifixion" sentence, the kingdom's harshest, in which the convicted person is beheaded and the decapitated body displayed in public.
Saudi Arabia systematically discriminates against its Shia citizens, who constitute 10 to 15 percent of the population, according to Human Rights Watch.
This discrimination reduces Shias' access to public education and government employment. They do not receive equal treatment under the justice system, especially with regard to religious freedom.
Shia rarely receive permission to build mosques and, unlike their Sunni counterparts, do not receive government funds for religious activities, said Human Rights Watch.
Human Rights Watch has urged the Saudi authorities to abolish the Specialized Criminal Court, the body that convicted al-Nimr. The government set up the court in 2008 to try terrorism cases but has increasingly used it to prosecute peaceful dissidents on apparently politically motivated charges and in proceedings that violate the fundamental right to a fair trial.
"Unfair trials of Shias amount to no more than a legal veneer for state repression of demands to end long-term discrimination," Stork said. "Saudi Arabia's judicial council should immediately review al-Nimr's verdict and quash it if they discover clear due process violations."
Photo courtesy: Human Rights Watch – Indicative photo, not related to the above story