"Slumdog Millionaire" Actor Dev Patel Launches "Pure Earth" Campaign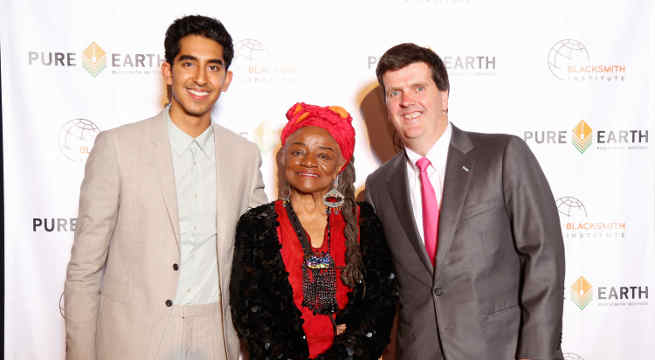 Actor / activist Dev Patel (Slumdog Millionaire, The Newsroom, The Best Exotic Marigold Hotel) has launched Pure Earth.
It is a new campaign with nonprofit partner Blacksmith Institute aimed at raising awareness of the threat toxic pollution poses to poor children living in some of the world's worst polluted places.
Patel unveiled the new effort at the Pure Earth inaugural benefit gala held at Gotham Hall in NYC on April 26, 2014.
[ Also Read: Priyanka Chopra: I Can't Make You Love Me ]
Pure Earth will expand on the work done by Blacksmith, which has been conducting environmental cleanups in poverty-stricken, toxic hot spots around the globe for the past 15 years.
The Pure Earth benefit gala honored Dev Patel and Sheldon Kasowitz, managing partner at Indus Capital Partners, and featured artworks for auction by Yoko Ono, Anne Hathaway, Susan Sarandon, Olivia Munn and the cast of Newsroom, Faith Ringgold and others.
According to Patel, filming in India as a teenager was an "eye-opening experience." The actor, who just celebrated his birthday on April 23, called Pure Earth "the single greatest present."