Take Time to be a Dad Today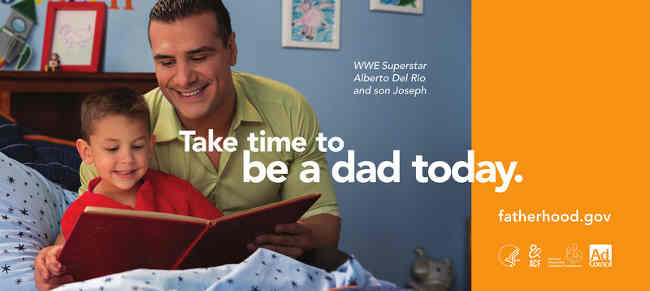 In advance of Father's Day, WWE Superstars are inspiring dads throughout the U.S. to get more involved in their children's lives.
WWE is joining the U.S. Department of Health and Human Services' Administration for Children and Families' Office of Family Assistance, the National Responsible Fatherhood Clearinghouse, and the Ad Council to launch a new series of public service advertisements (PSAs).
These will encourage dads to recognize their critical role and give them the tools to help get more involved.
This month, the Ad Council will distribute the television, radio, print, outdoor and Web public service ads to media outlets.
In addition, the Ad Council will make all PSA materials available through PSACentral.org. WWE will utilize all of its assets, including television, live events, in-arena, digital and social media, to generate awareness of the national public service campaign.
WWE donated their time, talent and resources for the campaign which uses humor and features WWE Superstars Alberto Del Rio, Titus O'Neil and Roman Reigns experiencing poignant moments with their actual children in an effort to inspire a nationwide commitment to fatherhood.
The stars provide the voiceovers at the end, directing audiences to "Take Time To Be a Dad Today."
"WWE is honored to be a part of the Ad Council Fatherhood campaign and the mission to inspire and support men in their commitment to responsible fatherhood," said Vince McMahon, WWE chairman & CEO. "Even the busiest of dads can do the simplest of things to have a positive impact on their children."
The campaign communicates to fathers that their presence is essential to their children' well–being and emphasizes that "the smallest moments can have the biggest impact on a child's life."