Uday Kotak from India Named EY Entrepreneur of the Year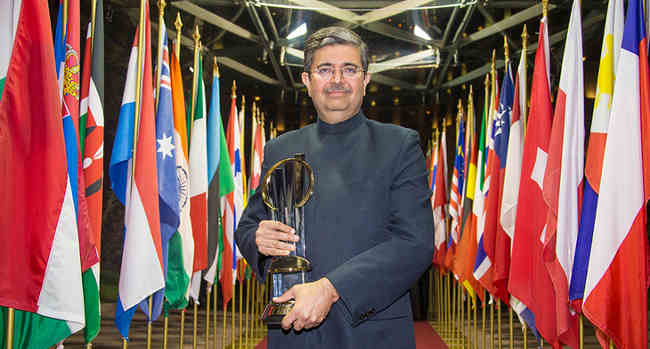 Uday Kotak, the founder and managing director of Kotak Mahindra Bank (KMB), was named EY World Entrepreneur Of The Year 2014 at an awards ceremony held Friday in Monaco's Salle des Etoiles.
Uday was picked from among the 60 country finalists vying for the title from 51 countries, each of whom has already been named the EY Entrepreneur Of The Year in their home countries.
"Uday is a wonderful example of an entrepreneur who, with a clear vision and strategy, took on established institutions by rewriting the rules of his industry to build something from scratch," said Maria Pinelli, EY's global vice chair, Strategic Growth Markets.
[ Also Read: Anand Mahindra Honoured with Harvard Medal ]
Uday Kotak set up Kotak Capital Management Finance Ltd in 1985. In 2003 the company became the first non-banking finance company in India's corporate history to be converted into a bank.
It has progressed from seed capital of less than US$250,000 to an international group with US$2.8b in revenues.
[ Also Read: Meet the Uneducated Education Minister of India ]
Headquartered in Mumbai, the bank has 605 full-fledged branches across 354 locations across India and international offices in London, New York, Dubai, Abu Dhabi, Mauritius and Singapore and is considered one of India's leading financial services conglomerates.
Uday said, "I'm delighted and honored to receive this prestigious award at such a spectacular event. It is recognition of the skills and dedication of the 25,000 employees of KMB who have worked so hard to build a world class Indian financial services brand."