World Record: 473 Ice Cream Cups in Just 3 Minutes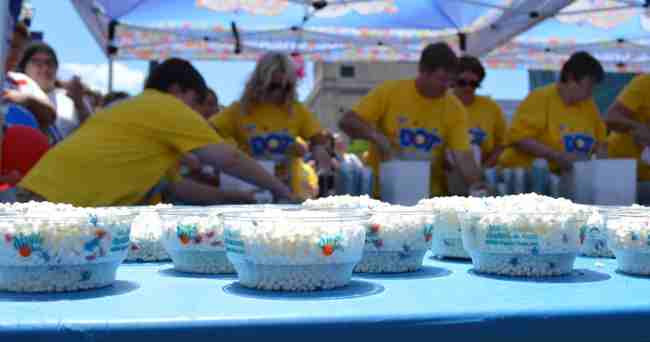 Dippin' Dots, a maker of flash frozen ice cream and frozen treats, announced Saturday that the company has achieved a Guinness World Records title for the number of ice cream cups prepared by a team of five in three minutes.
Headlined by Warner Music Nashville artist Ashley Monroe, the Dippin' Dots team prepared 473 cups of ice cream in that time. The record was set at Let Freedom Sing! July 4th in Music City in downtown Nashville on Independence Day.
[ Also Read: Here's the "World's Largest Ice Cream Scoop" ]
[ Also Read: Cartoon Strip Longer Than 11 Football Fields. Breaks World Record. ]
Curt Jones, Dippin' Dots founder and CEO, was also part of the record-setting team. A Guinness World Records adjudicator at the event verified the results.
"Our Guinness World Records record attempt was a fun and unique way to commemorate the 30th anniversary of National Ice Cream Month," said Jones. "We'd like to thank the talented Ashley Monroe for helping us with our record-setting effort."
In conjunction with the Guinness World Records record attempt, Dippin' Dots donated 400 servings of Dippin' Dots ice cream to the Monroe Carell Jr. Children's Hospital at Vanderbilt.