Auto Permit Scam: Will Arvind Kejriwal Resign Today?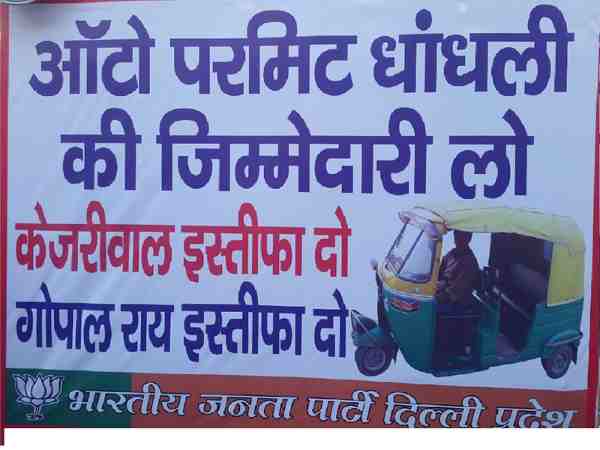 "If all the corrupt politicians resigned in India, there will be no politician left in the country." – Rakesh Raman
The Delhi wing of Bharatiya Janata Party (BJP) has demanded the resignation of Delhi Chief Minister (CM) Arvind Kejriwal while the latter is expecting the resignation of BJP leader Arun Jaitley over a corruption case.
The local BJP workers held a demonstration Monday outside Kejriwal's residence over the alleged Auto Rickshaw Permit Scam. A large number of auto drivers too joined the BJP workers' demonstration, the party said in a statement.
BJP alleges that Kejriwal government – like its predecessor Congress government – is helping the auto Mafia. The permits which should go directly to the autorickshaw drivers are landing in the pockets of auto Mafia, BJP says.
[ Can Delhi Government Stop Corruption? No Way. ]
Holding Kejriwal and his Transport Minister Gopal Rai accountable for the "Auto Permit Scam," the demonstrators demanded their resignation.
They raised slogans like "Kejriwal Sharm Karo – Auto Walo Ne Maan Diya, Samman Diya – Tumne Unko Bhi Dhokha Diya." In other words, the autorickshaw drivers of Delhi had trusted Kejriwal, but he cheated them.
Addressing the demonstrators, Delhi BJP President Satish Upadhyay said that Delhi's Auto Rickshaw drivers gave full respect and support to Kejriwal and today after this scam they feel cheated.
[ क्या अरविन्द केजरीवाल दिल्ली को बरबाद कर के रहेगा? ]
He further said that it hurts to know that Kejriwal government robbed the permits from the actual auto drivers and gave them to the auto Mafia.
Holding CM Kejriwal morally responsible, BJP demanded his resignation. "People have lost faith in this government and BJP demands the resignation of CM Arvind Kejriwal and Transport Minister Gopal Rai," the BJP stated.
So, will Arvind Kejriwal resign today? Your guess is as good as mine.
Photo courtesy: BJP