Call for Nominations: Corporate Awards for Women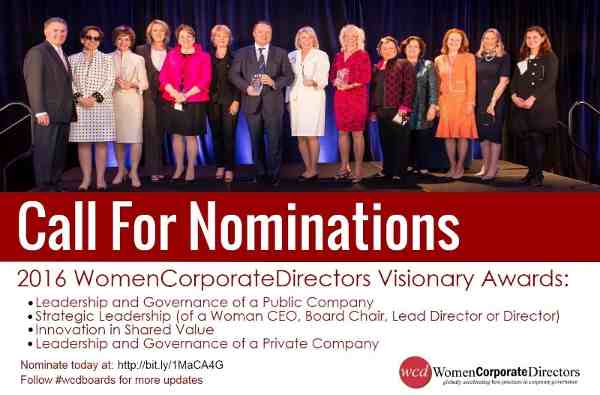 "The WCD Visionary Awards recognize leaders, both companies and individuals, who take their vision and make it real — creating stronger organizations designed around the future, not around the past." says Susan Stautberg, CEO and co-founder of Women Corporate Directors (WCD).
The Visionary Awards — created in 2011 by WCD, an organization of women board directors globally — has tapped since its launch an elite cohort ranging from Coca-Cola, Procter & Gamble, and Unilever to DuPont's Ellen Kullman, former Kraft CEO and chair Irene Rosenfeld, and former Pearson CEO Marjorie Scardino, according to WCD.
Each year at the WCD Global Institute, CEOs and board chairs from the winning companies receive their award at an event of top business leaders from around the world.
Nominations for the 2016 Visionary Awards may be submitted to WCD by August 31, 2015. Awards are given for:
Leadership and Governance of a Public Company (company award)
Innovation in Shared Value (company award)
Leadership and Governance of a Private Company (company award)
Strategic Leadership (award for a woman CEO, board chair, lead director, or director)
You can nominate a company, CEO, or director for the 2016 Visionary Awards,