Guinness World Record for Largest Pillow Fight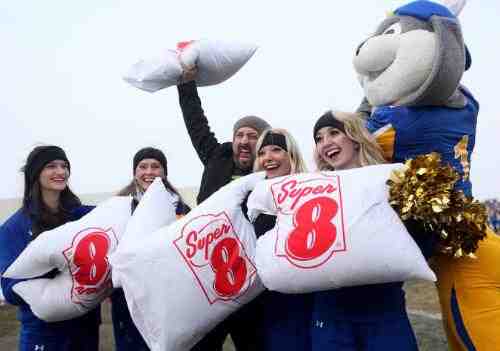 Super 8, an economy hotel chain, celebrated 40 years by joining TV host and former NSYNC pop star Joey Fatone in South Dakota to break the Guinness World Record for the largest pillow fight.
Held at South Dakota State University's Coughlin-Alumni Stadium, in the state where the brand opened its first hotel in 1974, the effort saw exactly 4,201 students, alumni, parents and fans take part in a fun-filled pillow fight challenge during one of the most anticipated football games of the season: the South Dakota Corn Showdown Series, a head to head match-up between South Dakota State University and the University of South Dakota. Fatone hosted the anniversary event and kicked-off the challenge.
According to Super 8, the record breaking attempt occurred between the first and second quarter of the game and lasted for 60 seconds, per official Guinness rules. The effort broke the previous record of 4,200 participants, which was set earlier this year.
Part of Wyndham Hotel Group, the Super 8 hotel brand is a hotel chain with over 2,400 locations around the globe.