Hyatt Regency Chongming Opens in Shanghai, China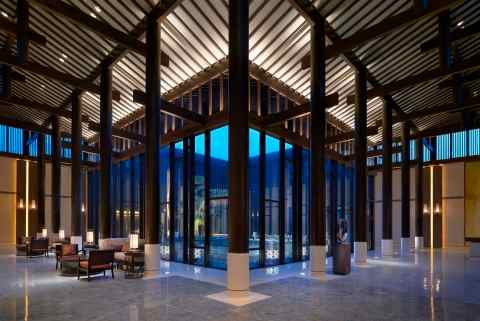 Hyatt Hotels Corporation (NYSE: H) announced Tuesday the opening of Hyatt Regency Chongming, located on Chongming Island in Shanghai, China.
The hotel introduces the Hyatt Regency brand to Shanghai and the "first international upscale resort" to the island.
Located at the mouth of the Yangtze River and the East China Sea, Chongming Island is the world's largest alluvial river island.
Sparsely developed and dotted with organic farms, rural villages, national parks and wetlands, it is a coveted retreat destination for Shanghai urban dwellers seeking fresh air, nature adventures and dining that uses local ingredients.
[ Also Read: Which Are the World's Best Beaches? ]
The island is conveniently linked to the mainland by a tunnel and bridge, and is just a 90-minute drive from downtown Shanghai.
"It is a privilege to unveil the first international upscale hotel on the ecologically rich island of Chongming," said Douglas Schwab, general manager of Hyatt Regency Chongming.
Hyatt Regency Chongming is set in a beautiful natural environment beside the Dongtan Wetlands Park and a migratory bird reserve. The resort's five buildings are connected by a covered Chinese-style walkway, and extensive gardens are landscaped with flowers, streams and arched bridges.
Ideal for couples, families or conference groups, the contemporary resort features spacious guestrooms, five restaurants and tea lounges, multi-functional events venues including 'The Campus' meetings concept, and an extensive variety of recreational facilities for all ages.