Iraq, U.S. Discuss Progress in Fight Against ISIS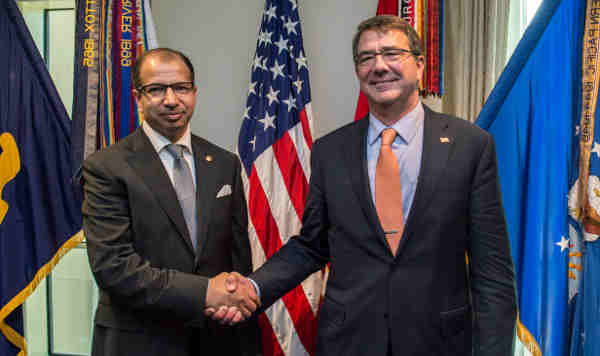 The U.S. Defense Secretary Ash Carter met with the speaker of the Iraqi Council of Representatives and a delegation of Iraqi parliamentarians at the Pentagon last week.
In a statement summarizing the meeting, Defense Department officials said Carter, Speaker Salim Jabouri and the Iraqi legislators discussed progress in the fight against the Islamic State of Iraq and the Levant (ISIL or ISIS) militants.
The discussion included deepening engagement with the Sunni tribal fighters at Taqaddam and legislation to promote reconciliation, including the passage of an Iraqi national guard law.
[ Is Islamic State an Independent Country, Now? ]
"Secretary Carter and Speaker Jabouri reaffirmed their commitment to work together — by, with, and through the government of Iraq — to deliver a lasting defeat to ISIL," the Pentagon statement said.
In the picture above: U.S. Defense Secretary Ash Carter poses for a photo with Salim al-Jibouri, speaker of the Iraqi Council of Representatives, at the Pentagon, June 12, 2015. DoD photo by U.S. Air Force Master Sgt. Adrian Cadiz