Kendall Jenner Rocks with Tattoo Junkee Body Art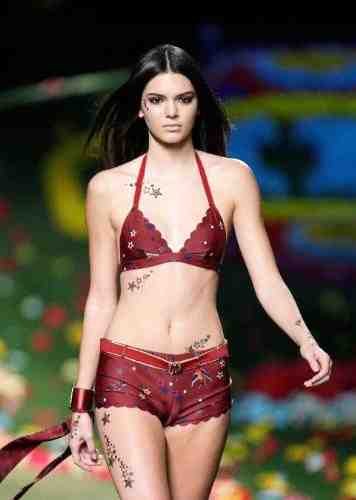 Seen confidently sashaying down the runway, model of the moment Kendall was rocking one of Tommy Hilfiger's latest creations – hot shorts and crop bra combo with a star pattern that was paired with Tattoo Junkee's "Twin Stars" body art design swirling up her legs, body, shoulders and face.
The look caught the eye of fashionista's and beauty aficionados and created a huge buzz around the celestial creation and the budding beauty brand. Tattoo Junkee made its New York Fashion Week debut.
With the assistance of the makeup artist Pat McGrath and faux tattoo design by Tattoo Junkee, Hilfiger gave a heavy nod to the modern-day festival goer by adorning midriffs, foreheads and ankles with the season's hottest trend since actually wearing clothes….BODY ART.
---
Related Stories:
Desigual Debuted at Mercedes-Benz Fashion Week Madrid
Watch: Britney Spears Getting Intimate with Bare Necessities
---
Forget catty liners, aggressive brows and sunless tans, body art is swiftly becoming the newest and most staple accessory for the everyday millennial's makeup routine.
Using patented body art stencils from Tattoo Junkee's line of body art cosmetics, Hilfiger's badass, buckled-down and bass-driven vision was amped up to a high-definition degree when makeup extraordinaire McGrath paired them with her own signature neutral makeup blends creating looks that were uniquely vintage yet intrinsically modern.
Using patented stencil technology for its body art and US-made luscious lip formulas, Tattoo Junkee believes that it is a shining star amongst the galaxy of otherwise style black holes.
Tattoo Junkee is a brand owned by Glimmer Body Art, LLC.