Narendra Modi Visits Gurudwara in Tehran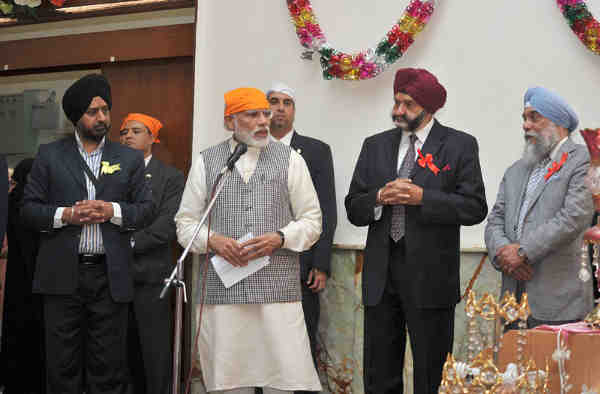 The Prime Minister of India, Narendra Modi, paid respects to the Guru Granth Sahib at the Bhai Ganga Singh Sabha Gurudwara, shortly after arriving in Tehran on Sunday.
He was presented with a Saropa and a Talwar.
Addressing the gathering, the Prime Minister complimented the Sikh community in Tehran for keeping rich heritage and traditions of India alive for the younger generations.
He said Indians believe in Vasudhaiva Kutumbakam – the whole world is our family – and therefore assimilate with everyone easily.
[ आइए सुने अपने प्रधान मंत्री नरेंद्र मोदी जी के मन की बात ]
Modi said the occasion of the 350th birth anniversary of Guru Gobind Singh would be celebrated both in India and other parts of the world; and would be leveraged to highlight and generate greater awareness among the younger generation about the martyrdom of the Gurus, and the message of the Holy Guru Granth Sahib.
Photo courtesy: Press Information Bureau