Pink to Make a Special Appearance on the Oscars
Grammy Award-winning singer and actress Pink will make a special appearance on the Oscars, show producers Craig Zadan and Neil Meron announced Friday.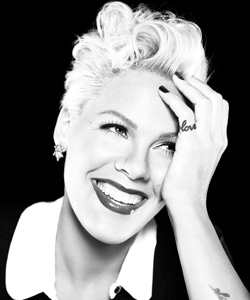 "We are very excited to welcome Pink to the Oscar stage for the very first time," said Zadan and Meron.
"She is regarded as one of the greatest voices in pop music and one of the best performers of her generation, and we are thrilled to have her join us for a highly anticipated moment on the broadcast."
The Oscars, hosted by Ellen DeGeneres, will air on Sunday, March 2, live on ABC.
The Oscars, produced by Craig Zadan and Neil Meron, also will be televised live in more than 225 countries and territories worldwide.
The Academy of Motion Picture Arts and Sciences is the world's preeminent movie-related organization, with a membership of more than 6,000 of the most accomplished men and women working in cinema.
In addition to the annual Academy Awards–in which the members vote to select the nominees and winners–Academy presents a diverse year-round slate of public programs, exhibitions and events. Click here to read the full story.