Reduced Calorie Cola Coca-Cola Life Arrives on the U.S. Shelves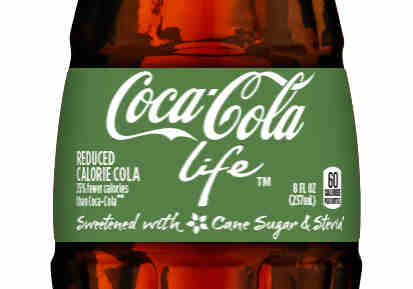 Coca-Cola Life. The new beverage is The Coca-Cola Company's first reduced calorie cola to use a blend of cane sugar and stevia leaf extract. Coca-Cola Life joins other trademark brands Coca-Cola, Diet Coke, and Coke Zero; the company said Tuesday.

Coca-Cola Life is part of the company's aim to provide an expanded selection of reduced, low- and no-calorie beverage options. With 35 percent fewer calories than leading colas, according to the company, Coca-Cola Life fits any occasion with just the right amount of sweet celebration and refreshment.
---
Related Stories:
World of Coca-Cola Releases Moments of Happiness Film
Pepsi Premieres Beats of the Beautiful Game Short Film
---
"People that love our brands want more choices in flavors, package sizes, and sweetener options. With Coca-Cola Life we're meeting those needs while serving up a delicious beverage that complements our broader portfolio," said Andrew McMillin, VP, Coca-Cola Brands, Coca-Cola North America.
Coca-Cola Life will be available in 6-packs of the 8 fl oz. glass contour bottle, 6-packs of 12 fl oz. cans, Fridge Pack 12-packs of 12 fl oz. cans, individual 20 fl oz. bottles, and 2-liter bottles. Packaging and availability will vary by location, says the company.
Coca-Cola Life further extends a varied portfolio in North America, which includes more than 750 beverages including more than 200 low- or no- calorie options. It is one of more than 45 beverages in The Coca-Cola Company's global portfolio currently sweetened in whole or in part with stevia leaf extract.