Twin Tennis Pros Set to Break Guinness World Record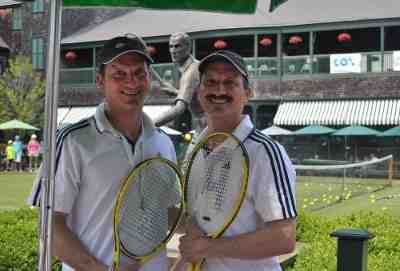 Identical twin brothers Angelo and Ettore Rossetti will attempt to hold the Guinness World Records title for the longest tennis rally while also raising $1 million for Save the Children on Saturday, Aug. 8, 2015, at Weston Racquet Club in Weston, Conn.
If they succeed in breaking the Guinness World Record, the brothers will win a $1 million annuity prize by Odds On Promotions for Save the Children.
"We are raising awareness and funds for those children who don't survive beyond age five around the world, and those who don't have the opportunity to learn here in the U.S," said Ettore Rossetti, a teaching professional at Weston Racquet Club who is also Save the Children's director of Social Media and Digital Marketing.
The brothers had previously held the Guinness World Record of 25,944 consecutive strokes for nearly five years after setting it on August 9, 2008. The feat took 14 hours and 31 minutes.
[ Meet the Friends of the Future at RMN Foundation]
In 2013, their Guinness Worlds Records title was broken by a team in Germany. This year, the Rossetti brothers' aim is to rally for 100,000 strokes or 24 hours, whichever comes first.
The twins are both certified tennis teaching professionals through the United States Tennis Association (USTA) and the Professional Tennis Registry (PTR).
Photo courtesy: Rossetti brothers