UN Unveils Memorial to Victims of Slave Trade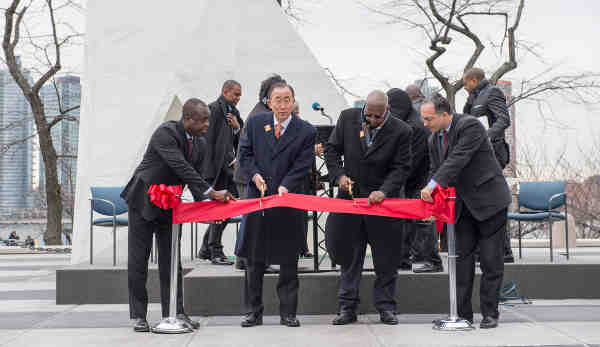 United Nations (UN) officials welcomed Wednesday the unveiling at the world body's New York Headquarters of a permanent memorial to the victims of slavery and the transatlantic slave trade which they acknowledged was one of the most horrific tragedies of modern history.
"This memorial stands as a strong and permanent reminder – not only of this gross injustice but of the goals that the UN set for itself 70 years ago," Secretary-General Ban Ki-moon said at the unveiling.
"This poignant and powerful memorial helps us to acknowledge the collective tragedy that befell millions of people. It encourages us to consider the historical legacy of slavery and, above all, it ensures that we never forget."
[ Also Read: Forced Labor Slaves Rescued in India ]
He pointed to the UN's educational work, teaching students about the transatlantic slave trade through the 'Remember Slavery Programme' and ensuring they appreciate how intolerance and racism can easily breed acts of hatred and violence.
The theme of the annual International Day of Remembrance of the Victims of Slavery and the Transatlantic Slave Trade this year is 'Women and Slavery.'
[ Low-Caste Women Forced to Clean Human Waste in India ]
Mr. Ban was joined at the unveiling of the 'Ark of Return' by the Prime Minister Portia Simpson-Miller of Jamaica, the memorial's architect, Rodney Leon, as well as senior UN officials, including General Assembly President Sam Kutesa, who said that slavery remained one of the "darkest and most abhorrent chapters" in world history.
The Director-General of the UN Educational, Scientific and Cultural Organization (UNESCO), Irina Bokova, said the memorial stands as a statement of the world's commitment to breaking the silence around the horrific tragedy of slavery and the slave trade and the millions of people it affected.