World Premiere of 'NPR Presents Water'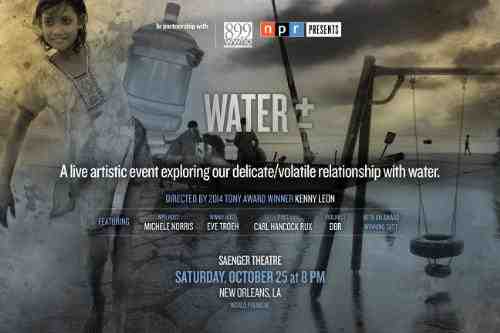 NPR (National Public Radio) and NPR member stationWWNO announce the world premiere of NPR Presents Water Saturday, October 25, 2014 at 8:00 p.m. CDT at the Saenger Theatre.
Water combines national and local news coverage, music, poetry, storytelling and visual projections to explore how too much or too little water shapes lives and affects communities around the country and the world.
NPR Presents Water brings together Tony Award-winning director Kenny Leon, NPR Science Correspondent Christopher Joyce, and theater writers Arthur Yorinks and Carl Hancock Rux with an original sound score by acclaimed violinist Daniel Bernard Roumain (DBR).
The show starts its eight-city tour in New Orleans. It will be co-hosted by NPR's Michele Norris, WWNO's Eve Troeh and feature Tony Award-winner Anika Noni Rose (Caroline, or Change); Tony Award-nominee, Michele Shay (August Wilson's Seven Guitars); Jason Dirden (Tony Award-winning Production, A Raisin in the Sun) and Lucas Caleb Rooney (Boardwalk Empire.) Members of the Voice of the Wetlands All-Stars Band will perform.
Tour Dates
October 25, 2014, New Orleans with WWNO
November 8, 2014, Washington, DC
November 10, 2014, New York, NY with WNYC
November 12, 2014, San Francisco, CA with KQED
November 13, 2014, Seattle, WA with KUOW
November 17, 2014, Atlanta, GA with WABE
November 18, 2014, Cleveland, OH with Ideastream
November 19, 2014, Detroit, MI with Michigan Radio
"NPR Presents Water combines journalistic rigor with the artistic nature of theatrical storytelling, amplifying stories about water that are significant to each region and have a global resonance," said Indira Etwaroo, executive producer and director of NPR Presents.