WWE Sponsors Wrestling Competition in India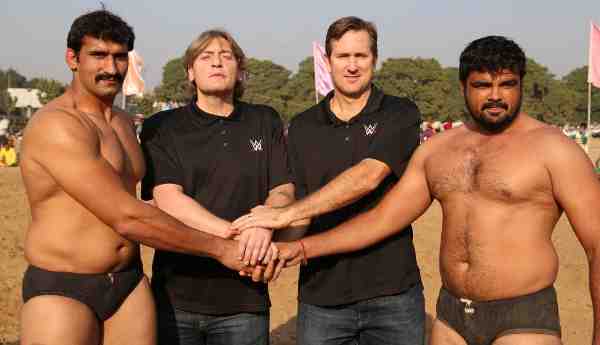 As part of its ongoing efforts to identify, encourage and nurture talent in India, WWE sponsored a Kushti (wrestling) competition in Mohali, India today. The event was flagged off by WWE Superstar William Regal, general manager of WWE NXT.
Over 200 wrestlers from Haryana, Uttar Pradesh, New Delhi, Punjab, Jammu and other parts of India participated in the competition. The Badi Kushti was won by Satinder pehlwan and Asim pehlwan whereas the Choti Kushti category winners were Binya pehlwan and Jagdev pehlwan.
[ Also Read: Bollywood Actress Bhavna Pani Visits WrestleManiaXXX ]
Traditional Indian wrestling isn't just a sport – it is an ancient subculture where wrestlers live and train together and lead a much disciplined life. This competition was a platform for wrestlers to showcase their ability and skills.
WWE (NYSE: WWE) is an integrated media organization and offers global entertainment.
In the picture above: (L to R) Pehlwan Satinder, WWE Superstar William Regal, General Manager NXT, Canyon Ceman, Sr. Director Talent Development – WWE and Pehlwan Asim