Sikh Leader Amritpal Singh Surrenders in Moga: Punjab Police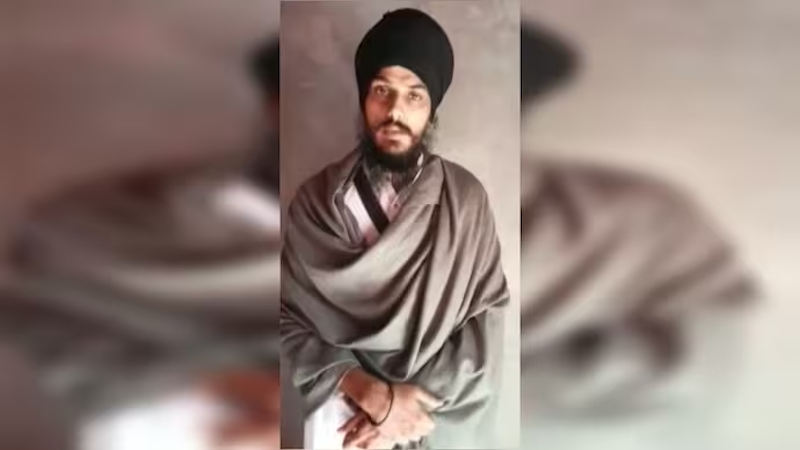 Sikh Leader Amritpal Singh Surrenders in Moga: Punjab Police
As persecution of Sikhs is increasing in Punjab under the government of chief minister (CM) Bhagwant Mann, U.S. Rep. Ilhan Omar has expressed deep concern over increasing human rights violations in Punjab.
By Rakesh Raman
Punjab Police claims that the youth Sikh leader Amritpal Singh has been arrested in the Moga city of Punjab. It is expected that he will be incarcerated in Dibrugarh in Assam where a few of his other supporters have been jailed.
In a tweet posted today (April 23), Punjab Police said, "Amritpal Singh was arrested in Moga, Punjab. Further details will be shared by the Punjab Police."
RMN News Service cannot independently confirm if Amritpal Singh has been arrested by the Punjab Police now or if he was already in police custody and is being produced now.
#AmritpalSingh arrested in Moga, Punjab.

Further details will be shared by #PunjabPolice

Urge citizens to maintain peace and harmony, Don't share any fake news, always verify and share.

— Punjab Police India (@PunjabPoliceInd) April 23, 2023
Earlier, police claimed that Amritpal Singh, 30, escaped when police were chasing him on March 18, 2023. Amritpal Singh – who was trying to stop drug addiction in Punjab – supports a demand for a separate Sikh state Khalistan to bring peace and prosperity back to Punjab which is facing unprecedented unrest.
Akal Takht chief Giani Harpreet Singh has said that the demand for Khalistan by Sikhs is equivalent to the call for establishing Hindu Rashtra in India.
In his speech on March 27, Giani Harpreet Singh said that the stringent laws such as the National Security Act (NSA) are being used to arrest Sikhs who demand a separate Sikh state Khalistan. He added that the same laws should also be applied to those who give open calls to make India a Hindu Rashtra.
In fact, the government of prime minister (PM) Narendra Modi is accused of making India a Hindu Rashtra where other minorities like Sikhs, Muslims, and Christians will be persecuted and will not enjoy equal rights. 
HUMAN RIGHTS VIOLATIONS IN PUNJAB
In an act of repression, the Punjab Government – in collusion with the central agencies – is arbitrarily arresting hundreds of Sikhs in Punjab with the unsubstantiated claim that they are associated with Amritpal Singh who is leading a social reform group 'Waris Punjab De' (or inheritors of Punjab).
As persecution of Sikhs is increasing in Punjab under the government of chief minister (CM) Bhagwant Mann, U.S. Rep. Ilhan Omar (D-MN) has expressed deep concern over increasing human rights violations in Punjab, which has a large number of people belonging to the Sikh minority community. 
Ms. Omar urged the U.S. administration to protect the human rights of all, particularly the rights of all religious and ethnic minorities. In a statement released on March 30, 2023, Rep. Omar – who represents Minnesota's 5th Congressional District in the U.S. House of Representatives – said that she is profoundly concerned about the human rights situation in Punjab, India.
"The Indian government has enacted a draconian communications shutdown, arrested hundreds, and blocked the Twitter accounts of civic leaders, journalists, including the BBC Punjab and a Canadian Member of Parliament," Ms. Omar said in her statement. 
[ VIDEO: अमेरिकी सांसद इल्हान उमर ने पंजाब में मानवाधिकार के उल्लंघन पर चिंता व्यक्त की ]
She adds that the ongoing trouble in Punjab has unmistakable echoes of the crackdown in Kashmir, and the sweeping response to the farmer's protests in India. For many Punjabis and Sikhs, she says, it also bears unmistakable echoes of the brutality against their community in 1984.
Thousands of Sikhs were murdered in the 1984 anti-Sikh riots after the assassination of Indian PM Indira Gandhi by her Sikh bodyguards. In revenge, hooligans killed Sikhs mercilessly, raped Sikh women, and looted the Sikh properties during the massacre particularly in India's capital New Delhi.
DEMAND FOR KHALISTAN IN PUNJAB
After the 1984 pogrom, Sikhs have been demanding a fully autonomous state called Khalistan in Punjab. The demand for Khalistan has gained intensity under the current government of CM Bhagwant Mann who is an illiterate and incapable politician.
The Khalistan movement is a Sikh separatist campaign that seeks to create a homeland for Sikhs by establishing a sovereign state, called Khālistān ('Land of the Khalsa' or the Land of Purity), in the Punjab region.
In the ongoing unrest in Punjab, the government of CM Bhagwant Mann – in collusion with the Modi government – is incarcerating Sikhs arbitrarily under the NSA and other harsh laws.
The Bhagwant Mann government has also unleashed police terror on peaceful protesters – including men, women, and senior citizens – who are demanding the release of Sikhs who have been arrested illegally.
[ ਕੀ ਭਗਵੰਤ ਮਾਨ ਪੰਜਾਬ ਵਿੱਚ ਅੱਤਵਾਦ ਦੇ ਦਿਨ ਵਾਪਸ ਲੈ ਕੇ ਆਉਣਗੇ? ]
The protests against the Bhagwant Mann government are not only being held in Punjab, but Sikhs are protesting in different parts of the world against his repression of innocent Sikhs.
Since Punjab is facing an extreme turmoil under the Bhagwant Mann regime, many Sikhs demand a properly governed state Khalistan so that peace and prosperity could be brought back to Punjab.
As a journalist and human rights defender, I (Rakesh Raman) sent a detailed petition on March 24, 2023 to the United Nations Secretary-General António Guterres and other international authorities to protect human rights of the people in Punjab.
The petition under the title "Case of Arbitrary Deprivation of Liberty, Human Rights Violations, and Ethnic Cleansing in Punjab, India" urged the UN officials and other lawmakers to save Sikhs from persecution and harassment perpetrated by police and state administration.
WORLD ACTION
Subsequently, U.S. Rep. Ilhan Omar raised the issue of human rights in Punjab. "We hear a lot about how our relationship with India's government is based on mutual values of democracy and human rights, in spite of their quadrupling trade with Russia since the invasion of Ukraine. We hear this in spite of their constant violations of human rights," Ms. Omar said in her statement.
"With right-wing authoritarianism on the rise across the globe, the United States should stand unequivocally for the protection of universal human rights, in particular the rights of all religious and ethnic minorities," she adds.
Last year (2022), Rep. Omar had introduced a resolution to condemn human rights violations and violations of international religious freedom in India, including those targeting Muslims, Christians, Sikhs, Dalits, Adivasis, and other religious and cultural minorities. 
The resolution called on the U.S. Secretary of State to designate India as a Country of Particular Concern under the International Religious Freedom Act, which has been recommended by the independent, bipartisan U.S. Commission on International Religious Freedom (USCIRF) for the past three years.   
However, the U.S. administration is being run by dishonest politicians. The U.S. – which is the self-styled promoter of democracy in the world – has been downplaying the demise of democracy in India. The U.S. leaders frequently hobnob with PM Modi and his colleagues despite their regular criticism of Modi's autocratic idiosyncrasies. 
The U.S., in fact, exploits human rights abuses in India for its commercial interests, as the U.S. believes that India is a big market for its products and services. 
Now, in order to protect the human rights of people in Punjab, the world community must get its act together and press the Modi government in India as well as the Bhagwant Mann government in Punjab to strictly follow the universal human rights laws.
Also, the Indian authorities should hold a fair trial of Amritpal Singh and other Sikhs who have been arrested arbitrarily. Meanwhile, in a video message before his surrender, Amritpal Singh said that he is being implicated in false cases, because he was fighting against the drug menace in Punjab. 
He added that in his absence when he is in jail, the people of Punjab should stay away from drugs and keep fighting for their rights.
By Rakesh Raman, who is a national award-winning journalist and social activist. He is the founder of the humanitarian organization RMN Foundation which is working in diverse areas to help the disadvantaged and distressed people in the society.
Support RMN News Service for Independent Fearless Journalism
In today's media world controlled by corporates and politicians, it is extremely difficult for independent editorial voices to survive. Raman Media Network (RMN) News Service has been maintaining editorial freedom and offering objective content for the past more than 12 years despite enormous pressures and extreme threats. In order to serve you fearlessly in this cut-throat world, RMN News Service urges you to support us financially with your donations. You may please click here and choose the amount that you want to donate. Thank You. Rakesh Raman, Editor, RMN News Service.