इस बार मन की बात नहीं, धन की बात करे मोदी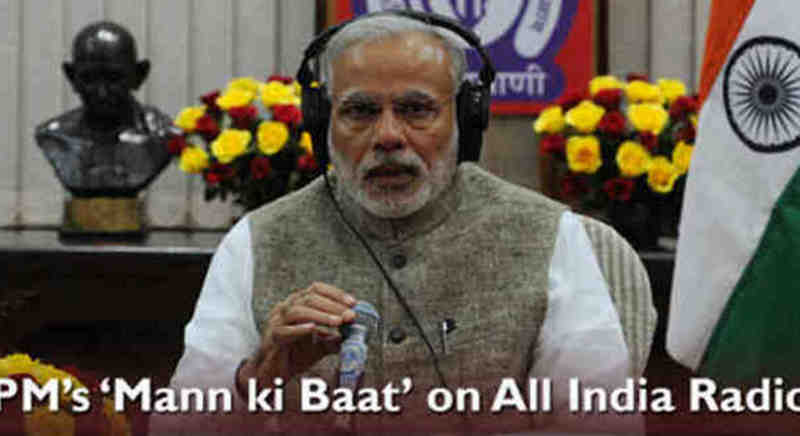 नरेंद्र मोदी से यह कहा जा रहा है कि वह एक बंद कमरे में अकेला बैठ कर ही रेडियो पर उस धन का हिसाब देशवासियों को दे जो उसके राज में लूटा जा रहा है।           
By Rakesh Raman
भारत का प्रधान मंत्री नरेंद्र मोदी जो हर महीने रेडियो पर 'मन की बात' प्रोग्राम करता है, इस बार माना जा रहा है कि वो धन की बात करेगा। यह वो धन है जो भारत में बढ़ते भ्रष्टाचार के चलते लूटा जा रहा है और मोदी सरकार हाथ पर हाथ रखे बैठी हुई है।
वैसे तो एकतरफ़ा 'मन की बात' प्रोग्राम इतना बोरिंग है कि उसे शायद मोदी के इलावा और कोई नहीं सुनता। इसका कारण यह है कि न तो मोदी कोई बुद्धिमान नेता है और न ही शिक्षित। मोदी के पास ऐसा कोई भी गुण नहीं है जिससे वह लोगों को कोई अच्छी सीख दे सकता है। वह तो लोगों से झूठे वादे कर के चुनाव जीत गया था और अब राजा बना बैठा है, और 'मन की बात' जैसे एकालाप से लोगों को गुमराह कर रहा है।
क्योंकि मोदी अच्छी तरह से एक शिक्षित व्यक्ति की तरह बोल नहीं सकता, वह प्रेस और मीडिया के सामने नहीं आता। इसलिए उससे यह कहा जा रहा है कि वह एक बंद कमरे में अकेला बैठ कर ही रेडियो पर उस धन का हिसाब देशवासियों को दे जो उसके राज में लूटा जा रहा है।
कांग्रेस के नेता राहुल गाँधी ने मोदी से कहा है कि वह उस 22,000 करोड़ रूपये का हिसाब 'मन की बात' प्रोग्राम के द्वारा दे जो एक हीरों का व्यापारी नीरव मोदी – जिसे नरेंद्र मोदी का करीबी बताया जा रहा है – पी.एन.बी. बैंक से लेकर भाग गया है और मोदी सरकार उसे पकड़ नहीं पा रही है।
Modi Ji, last month you ignored my suggestions for your Mann Ki Baat monologue.

Why ask for ideas when in your heart you know what every Indian wants to hear you speak about?

1. Nirav Modi's 22,000 Cr. Loot & Scoot

2. The 58,000 Cr. RAFALE scam.

I look forward to your sermon. pic.twitter.com/jp0AnLePtU

— Office of RG (@OfficeOfRG) February 21, 2018
उसी तरह राहुल गाँधी ने मोदी से 58,000 करोड़ रूपये का हिसाब माँगा है जिसका संबध राफेल डील से है और जिसमें राहुल गाँधी ने भ्रष्टाचार का सीधा आरोप नरेंद्र मोदी पर लगाया है।
इन सभी भ्रष्टाचार के मामलों पर मोदी चुप्पी साधे बैठा है और वैसे ही उलटे-सीधे भाषण देता जा रहा है। मोदी के मंत्री भी इस लुटे हुए धन का हिसाब देने की बजाय इधर-उधर की बातें कर के लोगों को मुर्ख बनाने की कोशिश कर रहे हैं।
[ India Slips from 79 to 81 Rank on Corruption Perceptions Index ]
क्योंकि कांग्रेस पार्टी बहुत कमज़ोर है और देश में कोई और विरोधी पार्टी नहीं है जो मोदी का सामना कर सके, इसलिए लगता है कि मोदी के राज में भ्रष्टाचार बढ़ता जायेगा और उसे रोकना असंभव होगा। 'मन की बात' एक बार फिर एक घिसा-पिटा और बासी प्रोग्राम हो कर रह जायेगा।
---
This article is part of our new editorial section that focuses on Lok Sabha Election 2019 in India.
---
By Rakesh Raman, who is a national award-winning journalist and social activist. He is the founder of a humanitarian organization RMN Foundation which is working in diverse areas to help the disadvantaged and distressed people in the society.
Photo courtesy: Government of India
Support RMN News Service for Independent Fearless Journalism
In today's media world controlled by corporates and politicians, it is extremely difficult for independent editorial voices to survive. Raman Media Network (RMN) News Service has been maintaining editorial freedom and offering objective content for the past more than 12 years despite enormous pressures and extreme threats. In order to serve you fearlessly in this cut-throat world, RMN News Service urges you to support us financially with your donations. You may please click here and choose the amount that you want to donate. Thank You. Rakesh Raman, Editor, RMN News Service.